Reading time about 10 min

More customers are reaching out to businesses on their phones, looking for interaction every time of day. The WhatsApp auto-reply feature allows you to set up automatic replies on WhatsApp so that your customers are taken care of, even when you're not there.
Automated replies create a positive customer experience and build your credibility as a business. You also won't have to manually respond to every message… Pretty amazing!
What is the WhatsApp Business autoreply feature?
The WhatsApp Business auto-reply feature allows you to set up pre-made, automated replies and messages for your customers. They send automatically on WhatsApp for those moments when you can't respond. The feature's available to WhatsApp Business accounts.
Not sure you have one? Here's how to create a WhatsApp Business account.
People today are more comfortable reaching out to businesses via text. 9/10 consumers say texts are their preferred method of communication, and more people are choosing over-the-top (OTT) apps like WhatsApp. This is the best time to get familiar with how to send automated messages on WhatsApp!
How to set WhatsApp auto-reply messages
There are two ways to do it:
From your WhatsApp Business account.
Via a WhatsApp partner platform that gives you access to the WhatsApp API.
The first option is great if you need to set up simple away messages or automate a welcome message. It's easy to set up, but the kind of messages you can send is limited.
In the second option, a CRM platform communicates with WhatsApp through an API, enabling you to send automated messages for a greater range of situations. You can create customizable auto-replies, transactional automated messages, and integrate WhatsApp messaging into a larger marketing strategy.
Related: Differences between WhatsApp, WhatsApp Business and WhatsApp Business API
Setting up automatic replies with the WhatsApp Business app
Setting up auto-replies in your WhatsApp Business account is simple. We'll show you how to set up an away message for business as an example.
1. Open settings
Click the three dotted lines on the top right corner of your account to open the menu (Android) or open up your Settings (iOS).
2. Click "Business Tools"
3. Select "Away Message"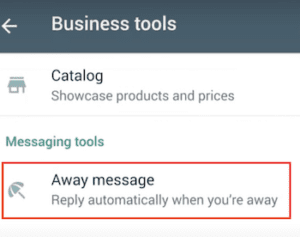 4. Activate the "Send away message" toggle button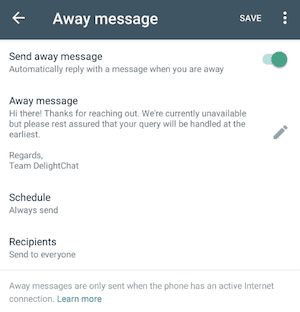 5. Edit your away message
6. Click the "Schedule" button to choose when to send your message
You have three options for choosing when to send your message.
Always. Start off all of your messages with a specific auto response. This is helpful if you are out of town for a week for example.
Custom schedule. This works great if there is a specific time when you know you won't be in. If you have a meeting coming up next Tuesday, prepare your away message in advance!
Outside of business hours. Keep your customers informed even when closed by setting up your daily away hours. This is based on the hours in your business profile.
7. Choose recipients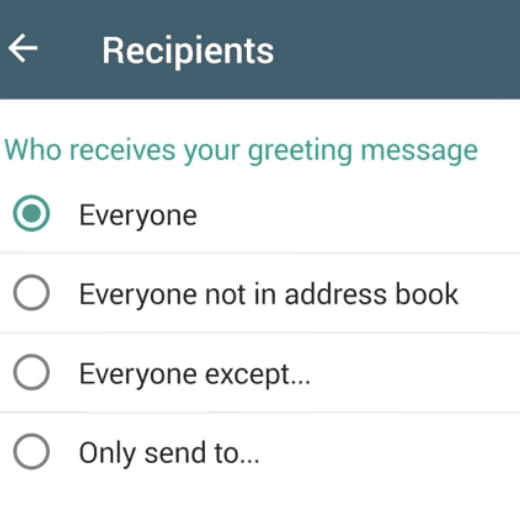 Once you finish setting up your away message, hit save and you're done — almost. Meta will have to verify your message first.
Good to know: You can also send quick replies in the WhatsApp Business app. These are pre-made, saved responses for you to use in live interactions. You can set these up in the same place you set up away and greeting messages.
Pros to using the autoresponder for WhatsApp
Easy to start using for small businesses with a lower volume of inquiries to handle
Great for managing routine out-of-office hours
Limitations to using the autoresponder for WhatsApp
Automated messages can only be sent during specific timeframes based on your business profile
Contact profiles cannot be updated or stored in a CRM
You must have internet connection for messages to be sent
You cannot customize based on customer information
You cannot send auto-replies for actions taken by customers outside of WhatsApp
2. Setting up your auto-reply message using a WhatsApp Business API
Cover all your grounds with automated messages and provide customer support at any time of day (or night!), no matter what channel customers reach out to you on. Using WhatsApp Business API allows you to send an auto-reply in WhatsApp for the widest variety of situations — as long as contacts have opted-in for WhatsApp communication.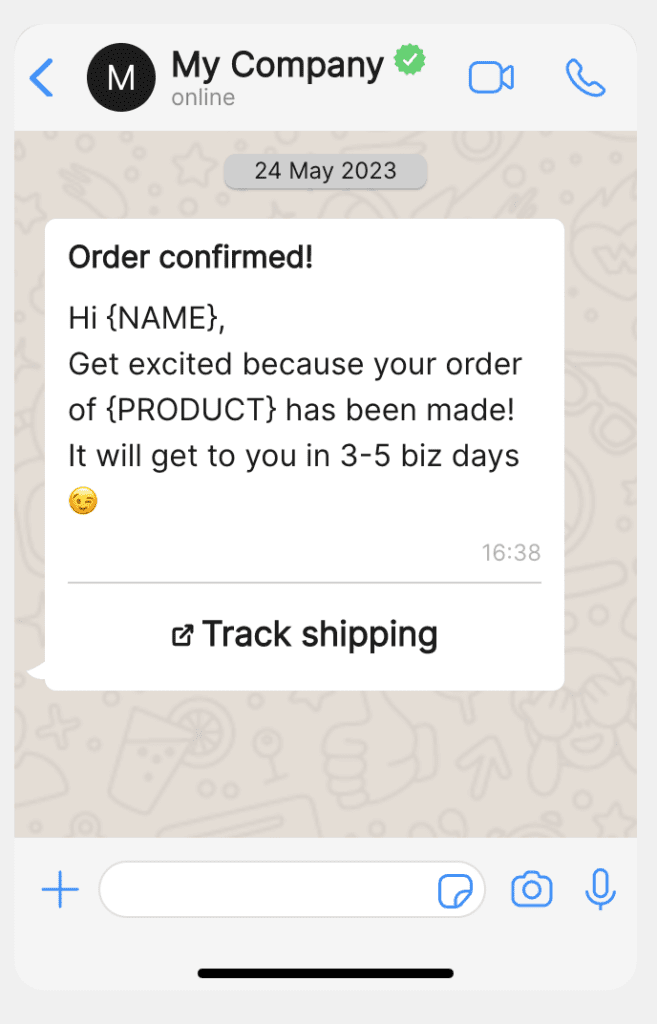 Design autoresponders for any scenario you like, including custom parameters.
1. Create your auto-reply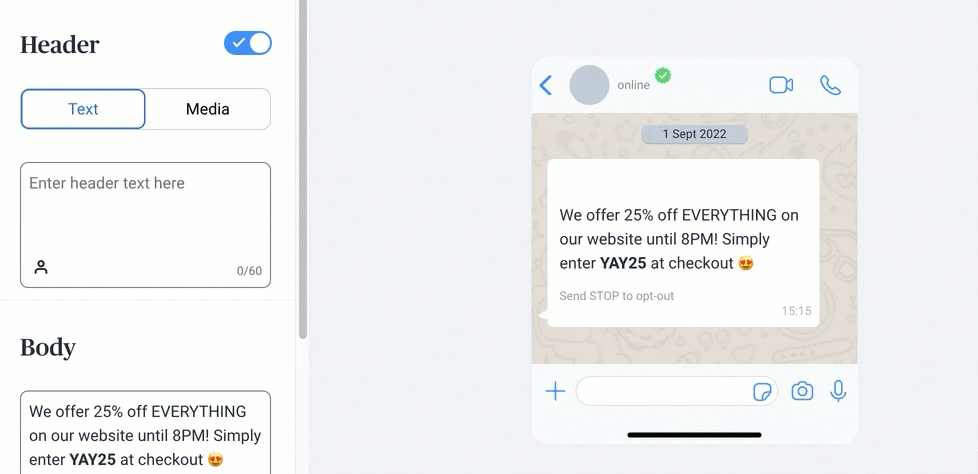 Platforms like Brevo make it easy to create automated messages with drag-and-drop message templates.
Include images, gifs, links, and other dynamic content to engage your customers. Get creative with bold fonts, emojis, or anything unique to your brand.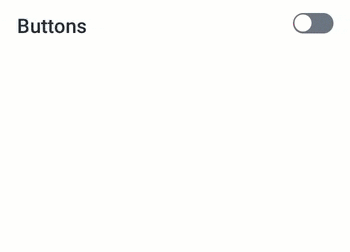 Include call-to-action (CTA) buttons, or set up quick replies for faster communication with your customers. Quick replies in automated messages are pre-set action buttons, such as an unsubscribe button.
Pro-tip! Always include the option to unsubscribe as well to make sure you only send to engaged contacts.
2. Add your auto-reply to a workflow automation
You're not limited to sending replies in response to WhatsApp inquiries. Choose an event to trigger when your message sends, such as when a customer checks out on your website, or signs up for promotional updates.
Brevo offers ready automation workflows for abandoned carts, successful purchases, new subscribers, email interactions, anniversaries, and many more. They all can include automated WhatsApp messages!

Setting up and following marketing automation best practices will help you streamline your automatic replies. It also paves the way for future marketing campaign efficiency and success.
The pros of using a WhatsApp Business API
A WhatsApp Business API gives you all of the features of WhatsApp Business and all the power and precision of a CRM platform.
Send auto replies triggered by customer actions and preferences
Encourage customer engagement with auto-send WhatsApp messages. Some ideas include:
Abandoned cart WhatsApp messages
Loyalty rewards updates
Price-drop notifications for customers' favorite items
Happy birthday messages
Opt-in or order confirmation messages
Transactional messages
Customize your messages
CRM suites like Brevo offer customizable templates so you can make auto-reply messages as unique and personal as you like. Make your message reply pop with gifs and images.
Drop in a link to your social media, or link to your customer's shipping tracking page.
Send transactional messages
Customers appreciate getting confirmations and transactional updates! Keep them in the loop and make a customer experience that is the best of the best, every step of the way.
Send appointment reminders
Make appointments easy with automated reminders. This means less emailing for you and fewer no-shows.
Nurture leads
Automatic replies on WhatsApp help get your customers what they are looking for. Your contacts are already interested in you, so keep the conversation going. Share relevant and helpful links, such as to booking pages, your website, and event pages.
Build better customer relationships
Auto-replies speak for you when you're not there. They let your customers know that they've been heard and help them feel taken care of.
Once you've mastered setting up auto-replies, you can develop your marketing strategy even further with WhatsApp campaigns.
Auto reply WhatsApp Business greeting message examples
And now for some message samples for inspiration before you get your own replies rolling!
Welcome discount auto-reply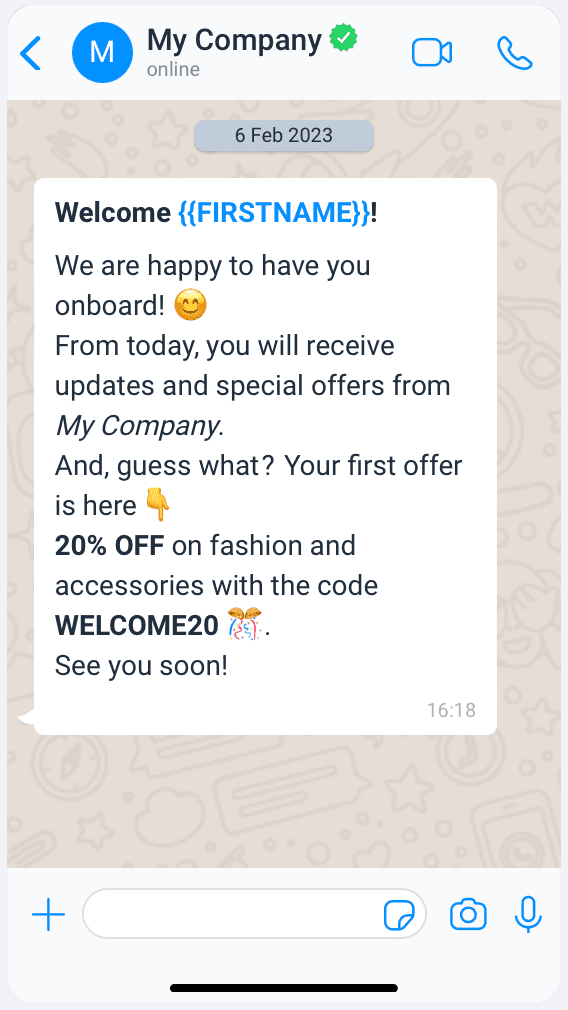 Every new customer's favorite welcome message! Lightly sprinkled with emojis and bold font to make everything clear and easy to find.
Discover more: 13 Examples of WhatsApp business greeting messages for new subscribers
Holiday greeting message
Hi there and happy [holiday name]. We got your message, but are closed until the [date]. Reach out to our support team at [ phone number] if you need assistance with product orders or shipping, they'll be happy to help!
Kind regards,
[Your Name]
Be back soon greeting message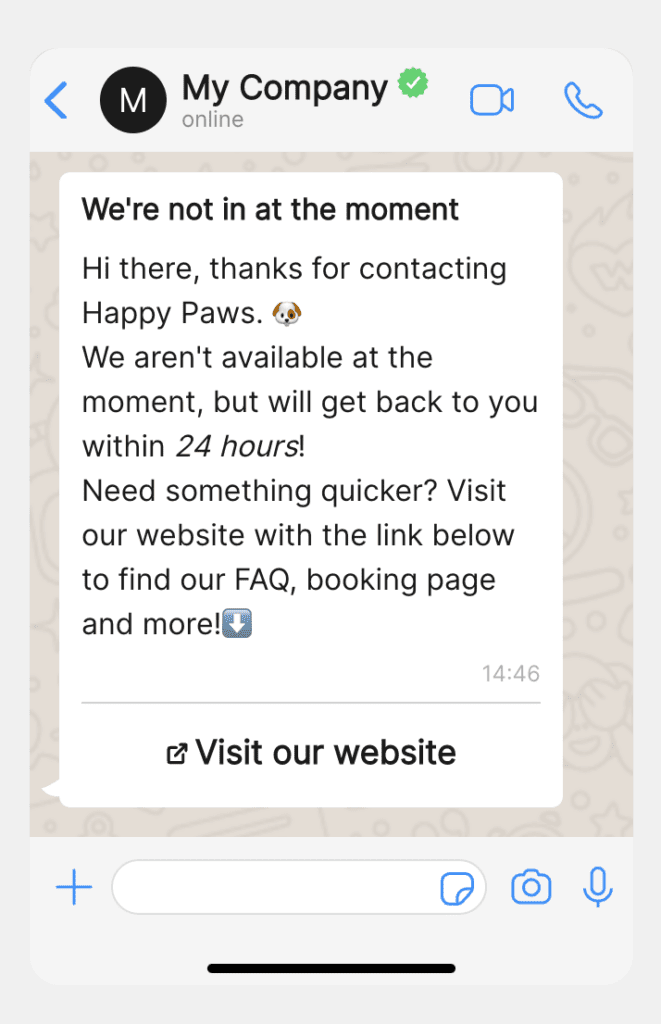 This example gives specific information about when you'll be back. It also includes a link to helpful information so they can get started without you.
Introduction-to-our-company greeting message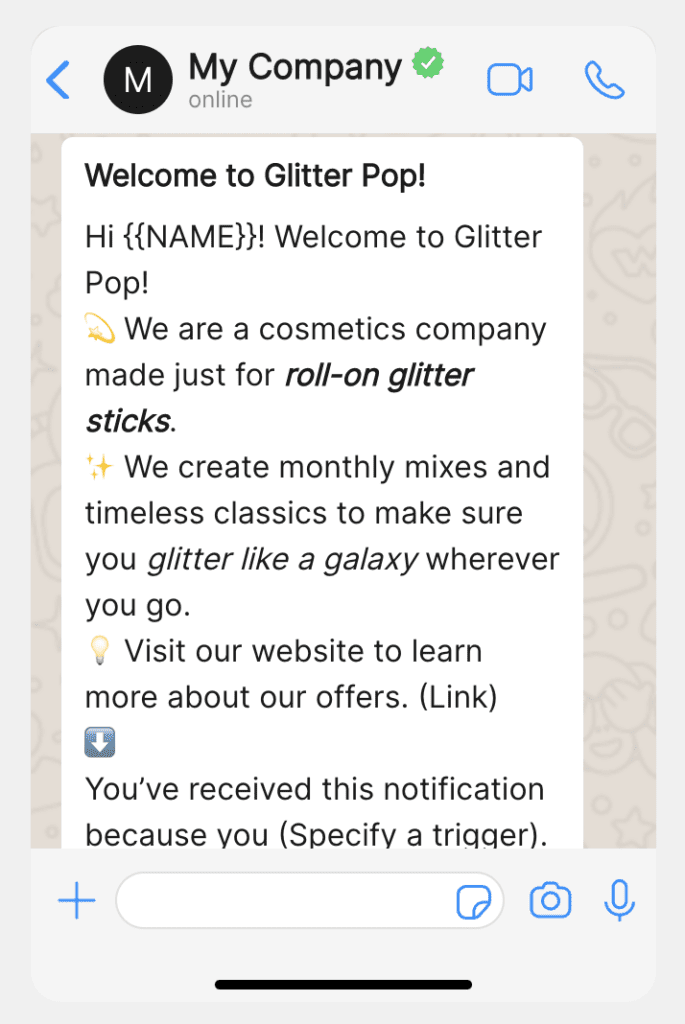 This type of WhatsApp automated message is a simple introduction to what your brand is about. Tailor it to your brand voice and welcome your contacts right on their phones.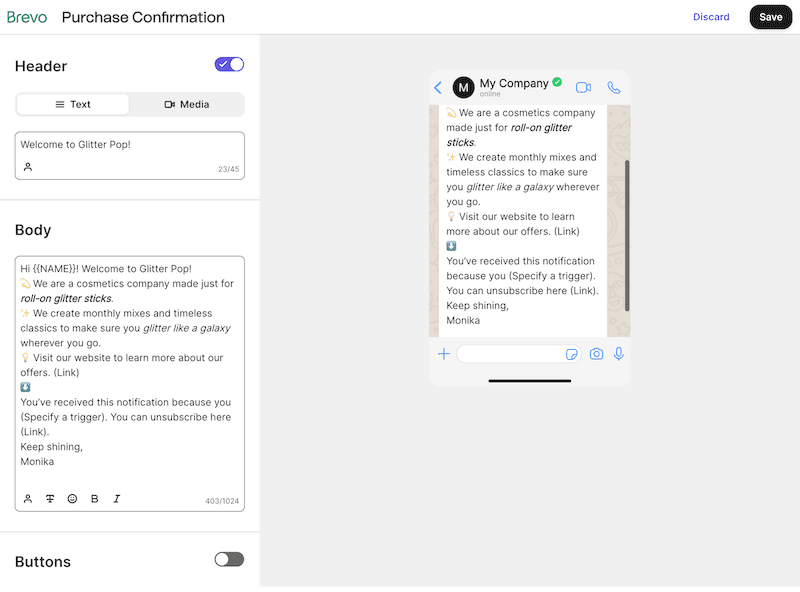 All your messages on Brevo will appear in a message preview like this. You can test your messages on colleagues to make sure it looks perfect before sending them off to Meta for verification.
Provide an outstanding customer experience with automatic replies on WhatsApp
Turn one-time conversations into long-term relationships with Brevo's WhatsApp Business API. Give customers 5-star attention with automated messages for transactions, confirmations, updates, and even simple "BRB"s.
Try WhatsApp campaigns on Brevo
Enjoy unlimited contact storage, customizable messages, event-triggered messages, and 1,000 free messages during your first month of a yearly subscription plan.