Reading time about 12 min
Looking for a drip email marketing software? It's a smart investment that will convert and keep customers coming back in the future.
Drip email marketing is a must for every business with a mailing list, no matter how big or small. It's a way to reach your subscribers with timely, relevant automated emails based on their behavior and interaction with your website.
A lot of email marketing platforms offer drip campaigns as a part of their functionality. Yet very few platforms ensure stable delivery rates, simple campaign setup, and fair pricing.
Out of hundreds of available solutions, we've handpicked the six best drip email marketing services that won't let you down. Let's dive in.
What's drip email marketing software?
Drip email marketing software is an application where you can create automated sequences of pre-written emails that are sent based on predefined criteria, like a set schedule, user behavior, or all at once. It's also known as email marketing automation or autoresponder software.
A webinar email sequence is the simplest example of a drip campaign. It may include:
Welcome email with a registration link
Reminder a few days before the event
Reminder a few hours before the event
Post-webinar email with a link to the recording
Follow-up email with additional resources
Follow-up email with a demo invitation
There are hundreds of other use cases for drip email marketing software. Some of them are:
Lead nurturing drips
Sales follow-up drips
Customer onboarding drips
Upselling and cross-selling drips
Customer win-back drips, and more!
Setting up such a sequence or a more complex one is easy with a visual workflow builder that good drip email marketing software usually provides. Let's go over the must-have features of quality drip email software.
5 features of a good drip email marketing tool
Marketing automation platforms typically offer a wide variety of tools for email marketers. It can be overwhelming so focus on these critical features when choosing a platform for drip email marketing:
Automated lead segmentation
Branching logic
A/B testing of sequences
Visual drip campaign builder
Fair pricing
Automated lead segmentation
To reach your leads with the most relevant content, your drip email marketing software should be capable of scoring and segmenting leads dynamically.
Quality drip email marketing platforms let you set up a lead-scoring model and include it right in your drip workflows.
Branching logic
Basic drips are good, but you should also be able to set up complex automations that follow branching logic.
What's branching logic? Also called "if/else" conditions, it allows you to set up drip campaigns that send different emails to different audience segments. With it, you're able to automatically offer different workflow paths based on user behaviors.
A/B testing of sequences
A/B testing in automation sequences allows you to experiment with different email contents and flows for similar audiences. This way, you can optimize your drip campaign performance and better understand your target audience.
Not all drip email marketing software let you run A/B tests within automated workflows so make sure you can access this feature in your chosen one.
Visual drip campaign builder
It must be easy to build drip campaigns with your chosen platform. Go for no-code automation software so you don't have to turn to your IT department to set up email sequences.
Luckily, most of the popular drip email marketing platforms offer visual automation builders.
Fair pricing
As obvious as it seems, a fair pricing model is a distinguishing feature of good drip email marketing software. When comparing shortlisted tools, ask yourself the following questions:
Does the platform charge me for the contact list size?
Are complex drip workflows included in the plan I'm going to buy?
Is A/B testing covered in my plan?
When I increase email sending volume, can I still afford this tool?
How many automation workflows are included in the plan I can afford?
After you answer these questions, you should be able to pick a winner and start building your drip campaigns.
The best drip email marketing platforms compared
Here's how our favorite drip email marketing platforms compare.
1. Brevo (ex Sendinblue)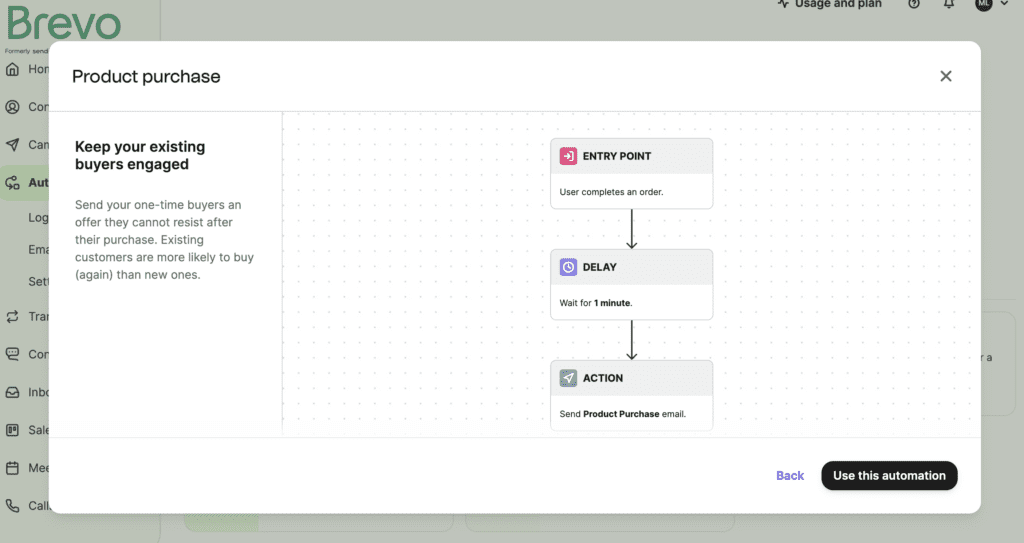 Brevo (ex Sendinblue) is a drip email marketing software that makes marketing automation easy for small businesses and growing startups.
The interface is simple and intuitive for building both basic workflows and advanced drip campaigns. To start creating drips, you can use:
Ready drip campaign templates
Custom workflows
In the template library, you'll find a wide range of ideas and use cases for drip workflows: abandoned cart flows, welcome series, upselling and win-back sequences, post-purchase follow-ups, and even client anniversary drips.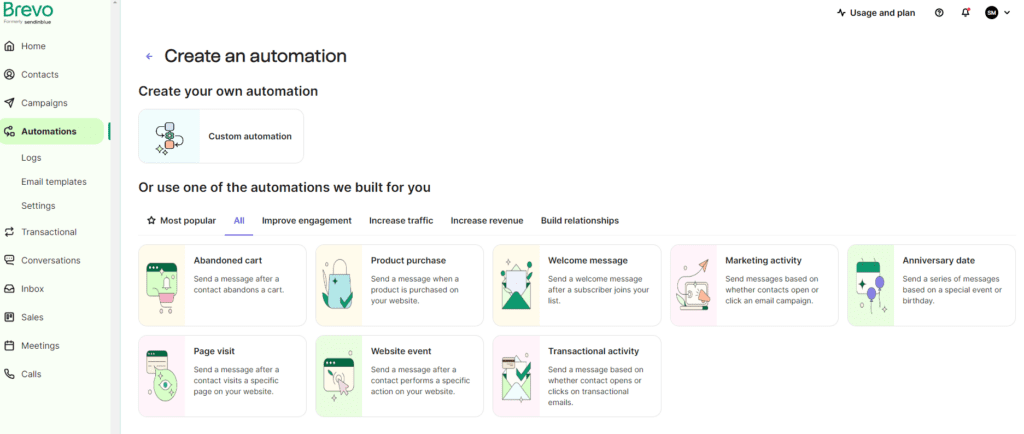 Brevo's drip campaign templates
Brevo includes all the must-have features for effective drip email marketing and even more:
A/B testing for automated workflows
Automated lead scoring and list segmentation
Dynamic personalization
"If/else" a.k.a. branching logic
Visual workflow builder
Multichannel drips (SMS, WhatsApp, push)
Multichannel automation workflows
Detailed performance reports
A/B testing of workflows is one of the most outstanding features in Brevo. You can experiment with message frequency, workflow setup, and email content without splitting your audience and tracking the results manually.
Brevo runs two workflow versions against equal audience segments and creates an insightful performance report for you.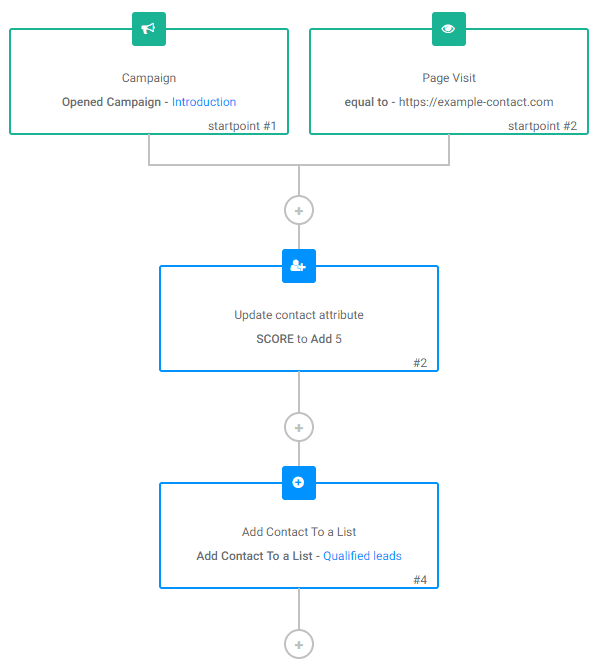 Automated lead scoring in Brevo
Why Brevo is the best drip email marketing software:
Drip campaigns are included in all plans, free and paid.
A/B testing of workflows helps you optimize drip sequences for better performance.
A visual workflow builder makes it easy to set up complex workflows with branching logic in a few clicks.
Multichannel automations let you reach your audience everywhere (SMS, WhatsApp, and push notifications).
You can test your workflows before launching them.
Brevo pricing
Brevo's drip campaigns are available on the free plan for up to 2,000 contacts, 9,000 emails/month and unlimited contact storage. Paid plans with unlimited automation start at $65.
2. Klaviyo
Klaviyo is an ecommerce marketing automation tool with an intuitive interface and robust toolkit.
The platform has all the features for setting up effective drip campaigns:
Email personalization
Built-in automations
Predictive analytics
A/B testing for flow emails
Flow branching
Visual flow builder
Klaviyo pros
It's tailored to the needs of ecommerce marketers. And it offers predictive analytics, analyzing your customers' purchase history and behaviors to make predictions on churn rates, customer lifetime value (CLV), and other metrics.
Klaviyo cons
On the downside, Klaviyo suffered a data breach in August 2022. The account data of 44 cryptocurrency platform customers was compromised when a threat actor gained access to an employee's Klaviyo account. This incident compromises it being the best drip email marketing software.
Also, they don't support free users via email. New customers have 60 days to ask their questions over email and then they're on their own.
Klaviyo pricing
Klaviyo's automated flows, or drip campaigns, are free to use. On the free plan, you can send 500 emails per month to 250 contacts. Paid plans start at $20 for $5,000 emails sent to 500 contacts.
If the price is a concern, find more Klaviyo alternatives here.
3. ActiveCampaign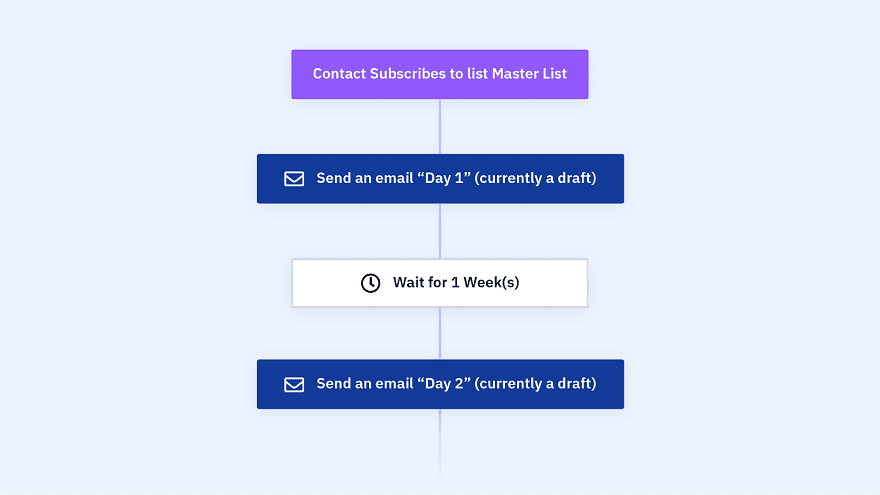 ActiveCampaign is customer experience automation software with drip email marketing functionality for small-to-mid-sized businesses.
In ActiveCampaign, you'll access the following features:
Dynamic segmentation
A/B test flows
Branching logic
SMS & WhatsApp marketing
Visual flow builder
Win probability prediction
Lead scoring
Automations map
ActiveCampaign pros
The automations map allows you to see all your drips in a single view. Another good feature is the win probability prediction powered by machine learning.
ActiveCampaign cons
You need to be patient when building your first automations as there's a learning curve.
ActiveCampaign pricing
ActiveCampaign has no free plan. The cheapest pricing plan starts at $9/month and includes 500 contacts, marketing automation, lead generation tools, tracking and reporting, and lead segmentation.
However, more advanced features, like landing pages, split testing and abandoned cart automation, are available only on top-tier plans (Plus from $70/month and Professional from $187/month).
Check out the top ActiveCampaign alternatives.
4. Drip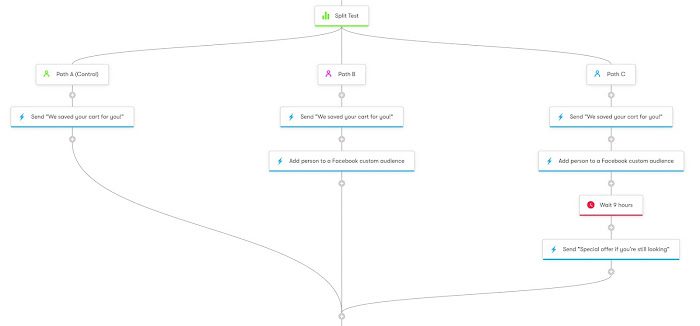 Drip is — as the name suggests — a drip marketing software mostly for ecommerce brands. It's known for the degree of flexibility and the depth of integrations available.
Of course, the platform called "Drip" has a robust toolkit for sending drip email marketing campaigns:
Email and SMS workflows
Pre-built workflows
Product recommendations
Scalable personalization
Workflow split tests
Dynamic segmentation
Drip pricing
Drip doesn't offer a forever-free plan. After a 14-day free trial, you'll have to subscribe to Drip's only paid plan that starts at $39/month. It includes a maximum of 2,500 contacts and covers all features.
5. Customer.io
The most expensive among the drip email marketing tools on this list, Customer.io is a customer engagement platform for tech-savvy marketing teams.
Customer.io empowers technical marketers with:
Flexible data integrations (RESTful API and third-party integrations)
Segmentation engine
Data attribution
Rule-based visual workflow builder
Dynamic personalization
Experimentation tools
Customer.io pros
It lets you create complex customer journeys spanning multiple marketing channels. It's also a highly technically flexible solution that enables you to customize the out-of-the-box features to your needs.
Customer.io cons
It can feel geared towards a tech-savvy user base.
Customer.io pricing
Customer.io starts at $150/month and includes 8,000 profiles.
6. ConvertKit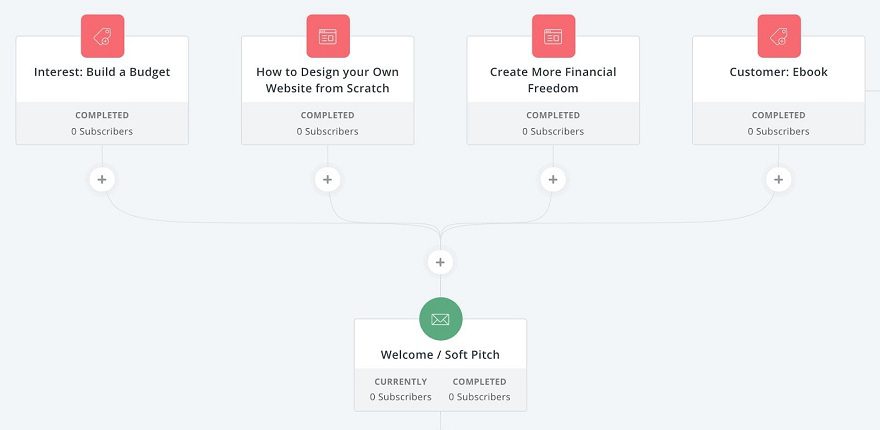 ConvertKit is a drip email marketing solution for creators and solopreneurs. It's a simple solution for lead generation and email drip campaigns.
Here's what you can expect from ConvertKit's drip campaigns:
Visual flow builder
Basic subscriber management
Personalized emails
Visual automation templates
ConvertKit pros
If you're stepping into email marketing to connect with your followers or start selling your products, ConvertKit is a good place to start. It's simple, and it definitely won't overwhelm you with too many technical features.
ConvertKit cons
Mind that ConvertKit doesn't offer a traditional email drag-and-drop builder, but you can modify one of the pre-built email templates to create good-looking emails. Also, ConvertKit does not support A/B testing for sequences. And it charges a fee for sales done via emails.
ConvertKit pricing
While ConvertKit offers a forever-free plan with 1,000 subscribers and unlimited campaigns, drip email campaigns are available only on paid plans. Pricing starts at $9/month for up to 300 subscribers and increases as you grow your mailing list.
Ready to set up your drip email campaigns?
Drip email campaigns can become your main sales tool. You just need to find software that will provide you with all the necessary tools. Before you choose the right platform, think of how deep you want to go with your automated workflows and highlight the features that should help you achieve your goals.
Try Brevo Drip Email Marketing Software
Free plan includes 300 emails/day, automations to 2,000 contacts, 40+ email templates, and customizable signup forms to grow your email list.