You need to book appointments with clients, and clients need to know how to book appointments with you. You can do this with a lot of back-and-forth communication, or you can do it immediately and from both sides with a dedicated scheduling platform.
We'll walk you through different booking methods, and show you how a dedicated meeting platform can save you and your clients time. You'll never have to send another "What time works for you?" again.
How to book an appointment: different methods
Traditional methods
Phone call. Scheduling an appointment over the phone is direct and efficient. It gives you the chance to ask questions, which helps you determine when to meet, and for how long.
Make sure to write down the date and time and confirm it before you end your call since you can't reference your call once it's done. Keep a note of your appointment in a paper calendar, or on your phone or computer calendar app.
In-person. If you're making appointments in person, the chances are it's spontaneous, such as at tradeshows or because you're in the area. Once you agree on a time, you'll add the date to your paper or digital calendar.
If your meeting itself is in person, you can still schedule it in a calendar and invite your client that way.
Email. Emailing is convenient to initiate but takes a lot of back and forth to finalize. You can reference your email to check your appointment date, so at least there can be no confusion as to the meeting time.
Add your meeting to your paper or digital calendar, and if you are providing the service, send a reminder email before the date.
Related: How to schedule a meeting via email
Online methods
Calendar App. The great thing about a calendar app is that every device comes with one built-in. It's a great quick way to behind scheduling appointments, but does have some limitations.
Pros
Appointments appear on your calendar
Meeting details, date, and time are clearly defined
Invitees can be directly added to the appointment from the calendar
Alerts can be sent out to guests
RSVPs are clearly displayed
You can schedule recurring appointments
Cons
Clients can't make appointments
There is no way to set up payments
Calendars do not have video calling built-in
Scheduling API. A scheduling API is a software communicator that integrates a calendar function into your website. Because it's code that can be customized, an API gives you full control over the look and capabilities of your website's booking page (such as setting up different meeting types for your clients to book or even choosing the colors).
Pros:
Cons:
Requires technical knowledge to implement
Takes time to set up
Scheduling Plugin. A plugin is an online tool you can use to give your website more features, like a scheduling page, without having to code anything. You can connect your website to certain plugins depending on what integrations your website provider offers. Look for these features when choosing a scheduling plugin:
Allows you to customize for meeting type and length
Allows you to make a schedule based on your availability
Allows clients to make an appointment
Accepts payments
Sends booking confirmations to clients
Sends reminders to you and your clients
Integrates into your customer relationship management stack (CRM)
Online Meeting Platform. An online meeting platform is a website or app that allows you to schedule meetings and host video calls. Zoom is a well-known example. Syncing meeting platforms to your calendar is easy to do in the platform, but it is up to you to set it up.
Pros:
Host a large number of people
Record meetings
Sync with a calendar app
Cons:
Can't accept payments
Doesn't send confirmation emails
Doesn't allow clients to book an appointment
Can't integrate client information into your CRM for follow-up communication
Related: How to schedule a Zoom meeting
Scheduling Software. Having a dedicated booking system allows you to create your own shareable booking page based on your availability. Clients can schedule meetings, and reschedule, easily and directly on your booking page. Scheduling software apps are ready to use and require no coding knowledge.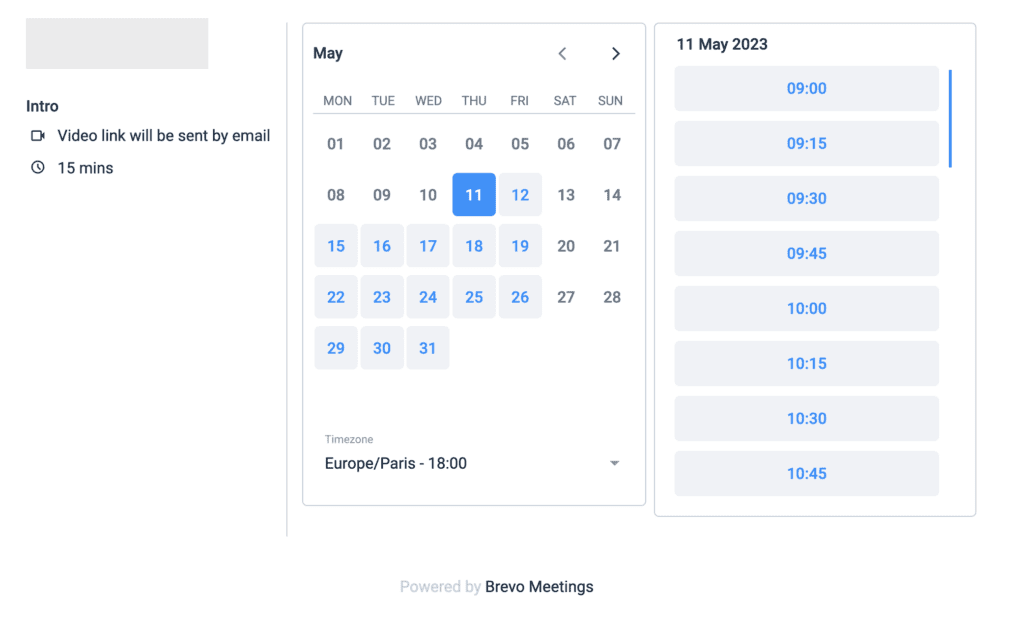 Booking page by Brevo
Pros:
Syncs to your calendar app
Supports Zoom integration
Offers built-in video calling
Provides payment processing
Automates email/text confirmations and reminders
Allows clients to book/cancel/reschedule directly
Creates a custom booking page based on your availability
Integrates onto your website
Supports social media integration
Displays adjusted time zones for clients in different regions
Cons:
Pricing varies for different booking software
Features vary with each software
It is important to note that not all service providers include all features. Specialized scheduling apps, such as Vagaro and Square Appointments, are built for specific niches and needs. Check out this comparison article if you are looking for the best app for clients to book appointments.
The best part about scheduling software is that it often is part of a larger CRM platform. Using Brevo Meetings, for example, allows you to use all scheduling features and can also connect to useful sales and marketing tools if you want to build an exceptional customer experience.
Further reading: How to Get Started With Booking Online Apps (2023)
Appointment scheduling software essential features
To have a smooth scheduling experience for your clients, and to minimize no-shows and rescheduling, look for a platform with these features.
1. Smart automation
Stay on top of appointment details, reschedule notifications, confirmations, and appointment reminders by choosing software that automates these emails.
2. Calendar synchronization
The best appointment-booking apps will be able to connect to popular business tools like Google Calendar. Syncing your calendar with your appointment booking app ensures that any changes you make on your calendar appear on your booking page. This also means all of your available time slots for clients are always up to date, so you don't risk double booking.
3. Payment collection
An online scheduling system that can securely process credit card payments from your clients upfront will save you from having to send awkward follow-up payment emails. Plus, you'll have the added benefit of having your receipts and transactions all recorded.
4. Shareable booking page
Look for software that creates an online booking page, where clients can directly book appointments with your team. The ability to embed this page in your website, link it on your social media, and put it in your email signature are helpful add-ons.
Embed a full booking page to your website, or a simple "book now" button that takes clients to your booking page.
5. Video calling integration
Unless you have a business that relies 100% on in-person meetings, video calling capabilities, whether built-in or third-party integration, are a must.
6. Integration to CRM stack
Having access to a larger CRM stack allows you to schedule follow-up emails and keep track of important client details. If your goal is to maintain long-term relationships with clients, find an app that is part of a larger platform.
Further reading: Best CRM software examples
How to book an appointment: Best practices
The following steps can help you create a smooth experience when setting up an online booking system for your clients.
Set up a calendar with time slots that you and your team can manage. Make sure there is some time between slots so nobody has to rush between clients.
Decide on pre-meeting questions for your clients to fill out to make sure everyone is prepared before the meeting. This is a good time to communicate your cancellation policy and ask your client if they would like meeting reminders.
Set up automated booking confirmations and reminders. Confirmation should be sent immediately after a booking is made. A reminder can be sent a few days before the appointment to avoid no-shows.
Allow clients to easily book an appointment online. Include the link to your booking page in your email signature or on your website so it's easy to find.
Have a payment solution in place by creating chargeable meetings for your booking page.
Automate a follow-up email to ask for feedback or say thank you!
The best online scheduling tools give your clients the ability to schedule appointments directly on your booking page and give you the power to customize your meeting type and availability.
Brevo's Meetings feature is completely free and will take care of your meeting reminders and take direct payments. It's easy to set up, so you can get your booking page up and running in a matter of minutes.
Make a booking page for your business with Brevo
Sign up to get unlimited appointments, customizable booking pages, video conferencing, online payment processing, and all core email marketing features.