Learn about booking online apps and how they can help you reach customers and grow your business.
Booking online apps are a great way to streamline scheduling and boost customer satisfaction. Without a business booking app, you might face problems like repeated no-shows, double bookings, and back-and-forth email chains.
That's where an appointment booking tool can come in handy. These tools help automate the process and simplify how customers book meetings.
Want to learn more? In this article, we'll introduce you to booking online apps and show you how to create an online booking system with Brevo Meetings.
What are booking online apps?
A booking online app, or appointment scheduling software, is a tool that helps businesses better manage incoming appointment requests.
Booking online apps let you create a landing page for time slot booking. This custom landing page displays different meeting types and your real-time availability. From there, clients can choose a time slot and book meetings instantly.
Different types of service providers, from freelancers to small businesses, can use booking online apps. For instance, a salon or spa might use booking online apps to let clients schedule wellness services. A career coach can also use an appointment scheduling tool to offer consultations.
Key benefits of booking online apps
Software for online booking is a great way to simplify meetings and delight customers. Here are a few key benefits of online booking apps.
1. Streamline the booking process
Booking online apps simplify the booking process by eliminating repetitive tasks. Clients can book appointments themselves on your calendar rather than sending emails back and forth.
Your online booking tool should automatically send notifications alerting you to any changes in plans, such as rescheduling or cancellations.
2. Boost the customer experience
Show your clients that you are available to meet and let them book right away. By even offering an online appointment booking app, clients can schedule meetings seamlessly. This helps reduce friction and increase customer retention.
3. Sync with other tools and channels
You may be able to sync your booking software with your calendar (Google Calendar, Outlook). This lets you manage all of your meetings in one place and prevents double bookings.
As a bonus, you can set up your appointment scheduling app to send SMS and email reminders. Sending appointment reminders on different channels is a great way to prevent no-shows.
The 4 best booking online apps
Here's how some of the top booking online apps compare.
Booking online app
Pricing
Key features
Brevo Meetings
100% free
Custom landing pages
Video calling
Payment processing
Unlimited appointments
Calendly
$8-$16/month
Custom landing pages
Group events and team scheduling
Routing forms
Acuity Scheduling
$14-$45/month
Advanced integrations (Zapier, Quickbooks)
SMS reminders
Packages, gift cards, group classes
Simplybook.me
$9.90-$59.90/month
32 languages
Point of Sale (POS) system
Gift cards, membership, intake forms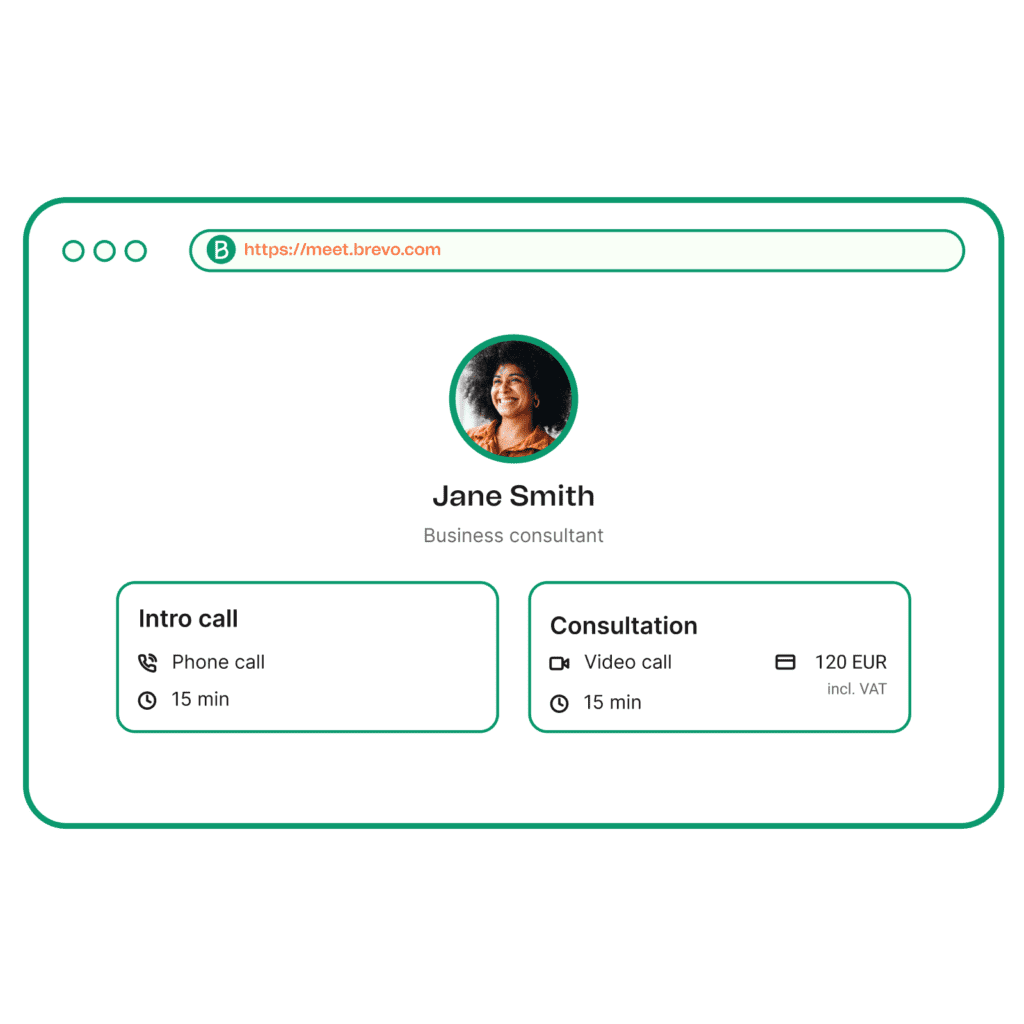 Brevo Meetings is the online appointment scheduling tool in Brevo's CRM suite. Brevo's biggest advantages include its price and functionalities. Meetings offers fully customizable booking pages, video calling, and online payment processing — all for free.
Sync Meetings with your calendar (Google, Microsoft Outlook) and send automatic email reminders. Host meetings via Brevo's native video calling app or with a third party software (Zoom, Google Meet). Brevo's Stripe integration also helps you get paid directly on the platform.
Brevo Meetings is also part of a broader CRM suite. It's easy to use it alongside Brevo's other sales and marketing tools, including Marketing Platform and Conversations.
Calendly is a popular online appointment scheduler, especially for one-on-one meetings.
Share their easy-to-use booking pages across your website, email signature, and social media. You can also connect Calendly with popular meeting tools like Google Meet, Microsoft Teams, Zoom, and Slack.
Calendly's free plan includes a booking page and basic features. You'll have to upgrade for branding customization, email reminders, routing forms, and multiple team members. Paid plans start at $8/month.
Acuity Scheduling is an online appointment scheduling software. They help business owners create custom booking pages and manage appointments online. They also give you the option to offer things like gift certificates and group classes.
Acuity Scheduling has a range of third-party integrations, including Quickbooks, Zapier, Stripe, Square, and Paypal. Their features can suit the needs of many service providers, as well as small to mid-sized businesses (SMBs).
However, Acuity Scheduling doesn't offer a free plan. Paid subscriptions start at $14/month. You'll need to upgrade for more advanced features, such as SMS reminders.
Simplybook.me's appointment booking system lets you create custom booking pages. Send customers email and SMS reminders, as well as accept online payments.
It's available in 32 languages, making it a good option for service providers with an international customer base. Simplybook.me also has advanced features, including gift cards, membership, and intake forms.
Simplybook.me offers a free plan, which includes a non-branded client app and basic features. Paid subscriptions start at $9.90.
Meetings: how to use Brevo's booking online app
Brevo Meetings is a free, user-friendly appointment scheduling tool. Easily book meetings, host video calls, and even collect payments — all in one place.
Get started with Brevo Meetings in five simple steps.
Step 1: Create your custom booking page
Brevo lets you create a booking page that you can easily share with your clients.
Start by customizing the booking page template with your name, profile picture, brand colors, and company icon. You can also change the URL of your booking page (e.g. https://meet.brevo.com/your-company-name).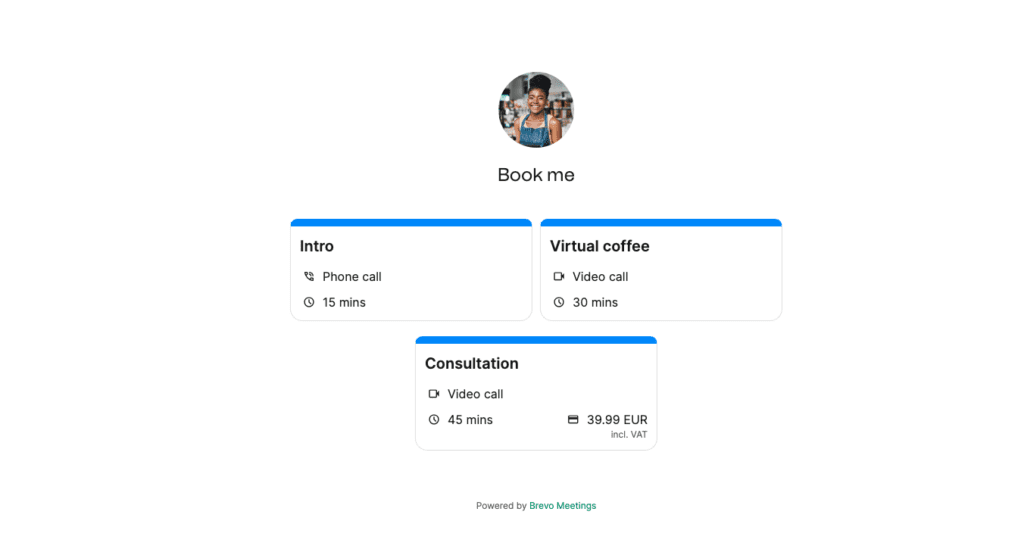 Step 2: Set up meeting types
Create different meeting types (in-person meetings, virtual coffees, consultations, etc.). Host virtual meetings with Brevo's native video calling tool. Or, use external apps like Zoom and Google Meet.
You can also charge for different meeting types and set your fees. From there, customers have the option to pay with their credit card. Brevo offers secure payment processing via Stripe.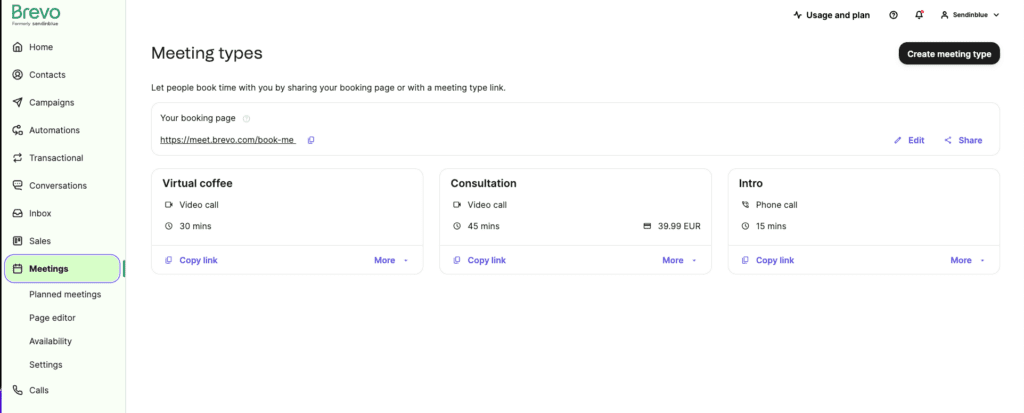 Step 3: Embed your booking page
Make sure your booking page appears where it makes the most sense, or even share it across channels. Try embedding your booking page in your website or email signature. You could even post your booking link on social media.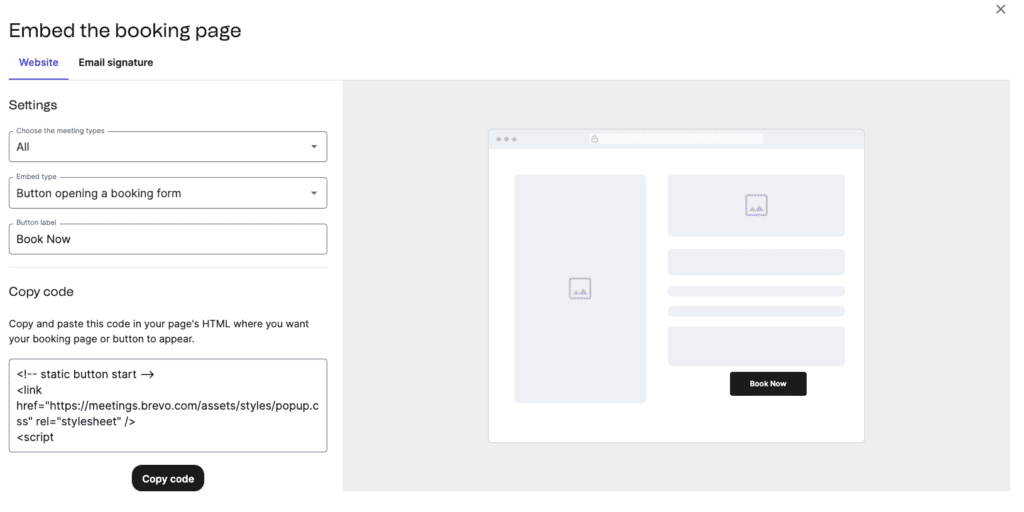 Step 4: Sync with your calendar
Make sure your calendar syncs with your online booking tool. When a client books a meeting, it will appear automatically on your connected calendar. Your booking pages will accurately show your availability in real time. This helps you avoid double bookings.

Step 5: Manage your meetings
Brevo Meetings makes it easy to view upcoming, past, and canceled meetings. Once the meeting starts, join virtually from the dashboard or a calendar link.
If needed, reschedule meetings or add participants. You can even schedule meetings with customers directly by clicking on Plan a meeting.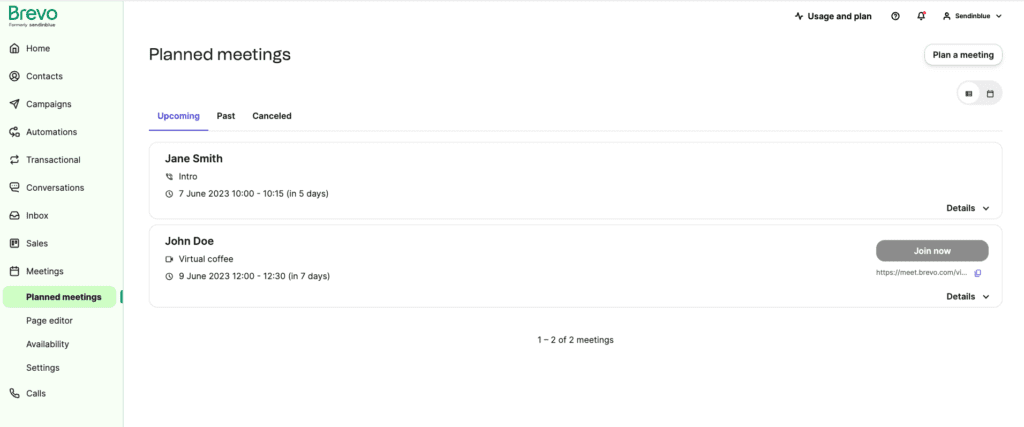 Get started with booking online apps
Reach your customers with Brevo Meetings. Our booking online app makes scheduling a breeze with its user-friendly platform and flexible functionalities.
Meetings is part of Brevo's CRM suite, which offers all the tools you need to grow your business. Run campaigns over email, WhatsApp, and SMS with the Marketing Platform. Or, use the Sales Platform to manage team members and track your deals.
Sign up for Brevo's free plan and start scheduling meetings for free.
Start booking with Brevo Meetings for free
Sign up to get unlimited appointments, customizable booking pages, video conferencing, online payment processing, and all core marketing features.