Reading time about 12 min
Marketing automation services offer tools that help grow your business and improve customer experience. This list details the top marketing automation platforms around to help you decide which one is right for you.
Let's talk about marketing for a minute. Without a marketing strategy in place, you'll find it difficult to reach new customers and build brand visibility.
But where do you even start?
Marketing brings together so many different elements that it's hard to know where to begin.
This is where marketing automation services can help. These platforms will guide you through setting up strategies that convert and help you put everything in place to get the results you want.
So you can weigh up the different solutions, we've picked out the best marketing automation tools available along with the features that set them apart.
11 Marketing Automation Services That Will Boost Your Results
1. Brevo (formerly Sendinblue)

Brevo (formerly Sendinblue)'s marketing automation software provides a toolbox of everything you need to create powerful and engaging campaigns. The features let you optimize the customer journey from start to finish, using deep insights into customer behavior to track performance and tweak your campaign. 
The intuitive suite of tools creates an enjoyable customer experience, from lead qualification to nurturing and post-sale support. The Brevo Tracker lets you track visitors exploring your website and add them to marketing workflows based on their onsite behavior. 
You can also create automated workflows geared towards different audience segments, for personalized messages that will resonate with your customers.
The visual drag-and-drop workflow editor gives you an overview of the journey your customers will go on. You can then easily edit this based on real-time insights and analytics.
Price: Brevo (formerly Sendinblue)'s free plan lets you send up to 300 emails a day and use Marketing Automation for 2,000 contacts, page tracking, and a visual workflow builder included. Unlimited Marketing Automation starts at $65 per month.
2. HubSpot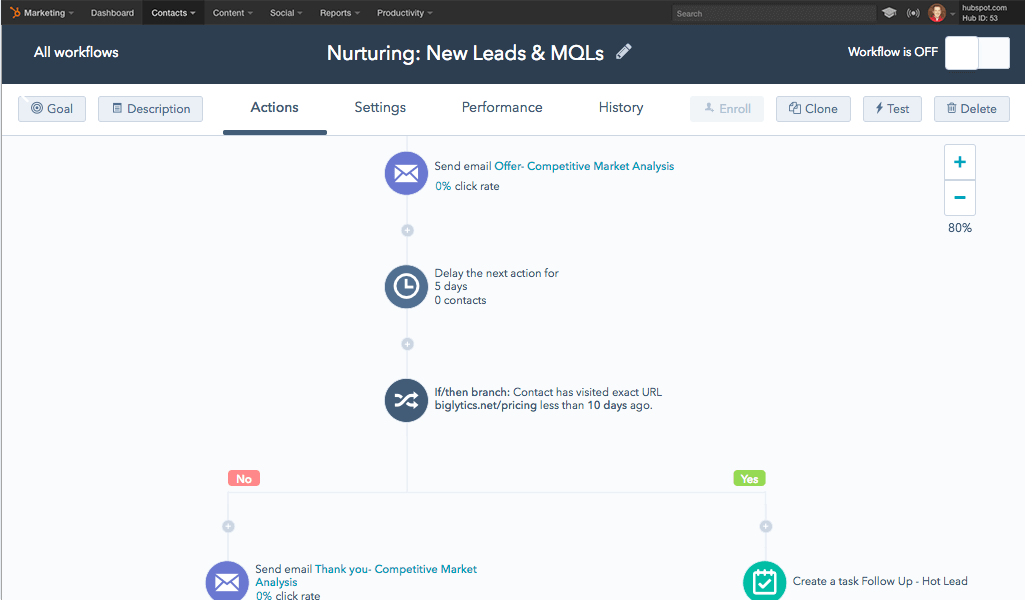 HubSpot's marketing automation service focuses on inbound marketing tools that help you generate leads and convert more customers. The features in place provide strategic guidance for creating an all-around marketing plan that suits your business and its buyers. 
Design beautiful landing pages optimized for conversions with the drag-and-drop editor and publish blog posts quickly and effectively with in-built content marketing tools. Advanced insights mean you can track activity on your website to better understand visitor behavior and trigger automations.
Elsewhere, you can get real-time SEO suggestions to help boost your search engine rankings, while the Conversations feature enables you to manage customer communications from different messaging channels all in one place.
For more information on HubSpot's offer check out our detailed comparison of HubSpot vs. Brevo (formerly Sendinblue).
Price: prices start at $50 per month for the Starter plan or $800 per month for full automation features on the Professional plan. Both include 1,000 contacts.
3. ActiveCampaign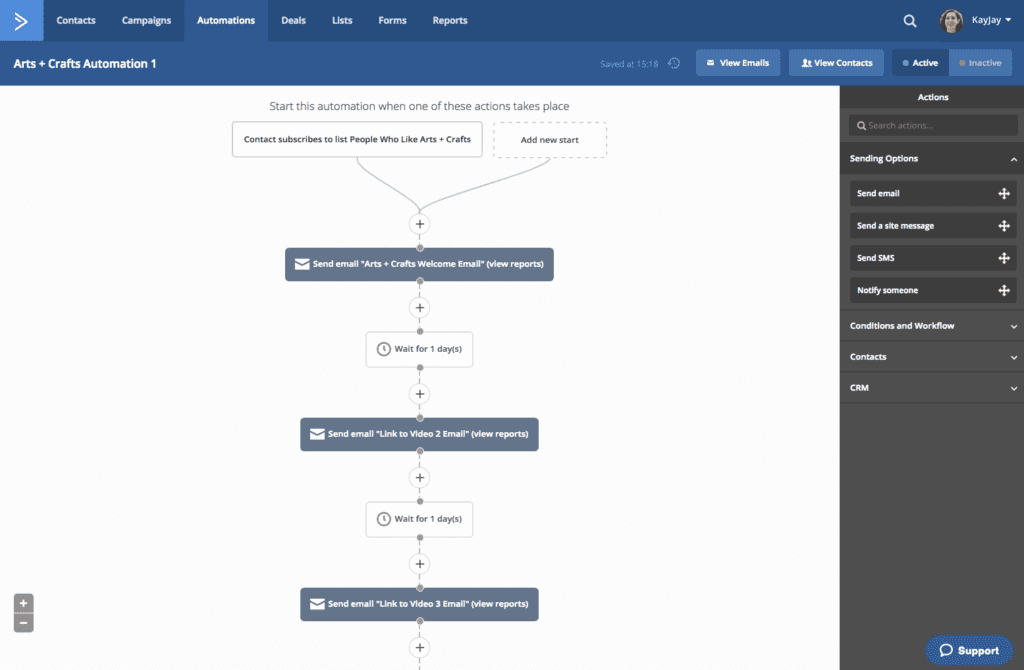 ActiveCampaign allows you to map out the customer experience from start to finish. It provides tools for robust email campaigns, automation features to put your strategy on autopilot, and a CRM system to help you manage and organize your contacts.
The platform has a series of features to help with each stage of the customer journey, from the initial reach and engage phase right through to post-purchase care.
It includes premade subscription forms and landing pages optimized for conversions, segmentation to customize the buyer experience, and split testing functionality to see which strategies resonate best with your audience.
For more details of ActiveCampaign's features and pricing, take a look at our comparison of Brevo vs. ActiveCampaign.
Price: prices start at $15 per month for up to 500 contacts on the basic plan.
4. Omnisend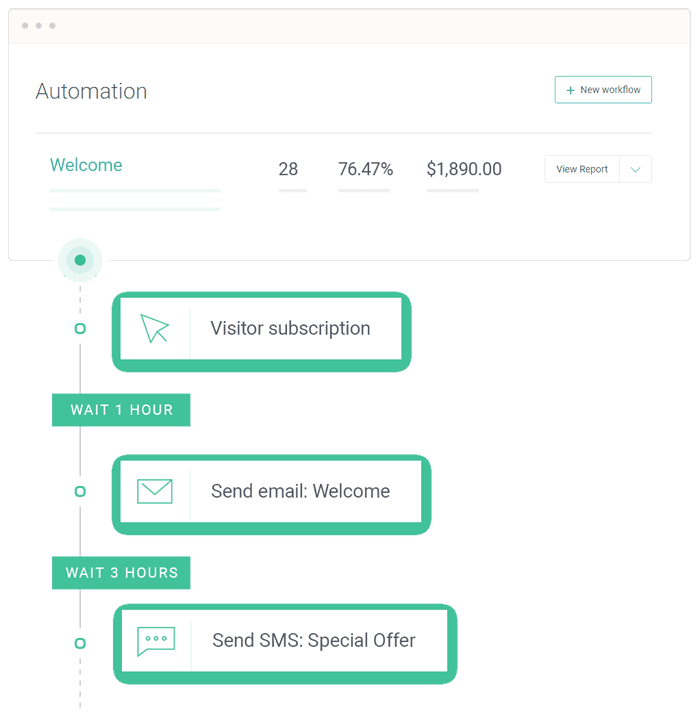 Omnisend combines powerful email marketing capabilities with SMS and other channels. The key is in the name — it specializes in creating a slick digital marketing strategy that spans multiple channels all from one central dashboard.
Another aspect that sets the service apart from other marketing automation solutions is that features are specifically tailored towards ecommerce brands, helping them scale while maintaining and nurturing customer relationships.
You can integrate several different channels into your workflow, create branded emails from premade templates, and tap into automation tools that let you run campaigns on autopilot.
Price: there is a free plan for email marketing, but use of the automation tools starts at $16 per month for up to 500 contacts.
5. Klaviyo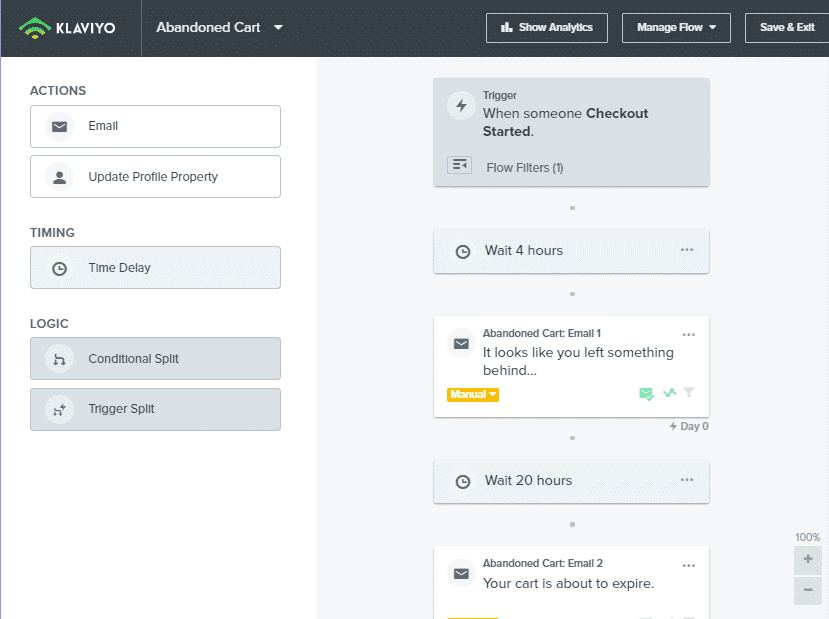 Klaviyo is a tool created for ecommerce brands that want to up engagement levels and enhance the customer experience. It predominantly combines email and SMS marketing services in an effort to build loyal relationships.
The service integrates with major ecommerce apps as well as Facebook advertisements. There are also prebuilt signup forms to help you grow your email lists and collect customer information for personalization.
Powerful automation capabilities mean you can create complex workflows, with the ability to A/B test. The platform's greatest benefit is its personalization features, which allow you to create unique transactional emails and campaigns that keep customers happy.
To help you decide whether Klaviyo is right for your business, check out our comparison of Klaviyo vs. Brevo (formerly Sendinblue).
Price: there is a free plan for up to 500 monthly emails and 250 contacts. After that, prices start at $20 per month.
6. Marketo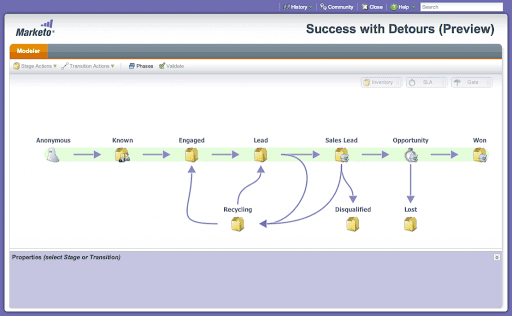 Marketo is known as a lead management platform, but it covers pretty much every part of marketing. This includes powerful email capabilities, as well as mobile and account-based marketing tools.
The service is hot on personalization. You can customize content, messaging, and branding to align with your customers' wants and needs, all from one central place. There are also insightful analytics to measure every moment in the customer journey.
Price: there are various packages available that include different features. Prices are based on database size but you have to contact the sales team to get a quote.
7. Autopilot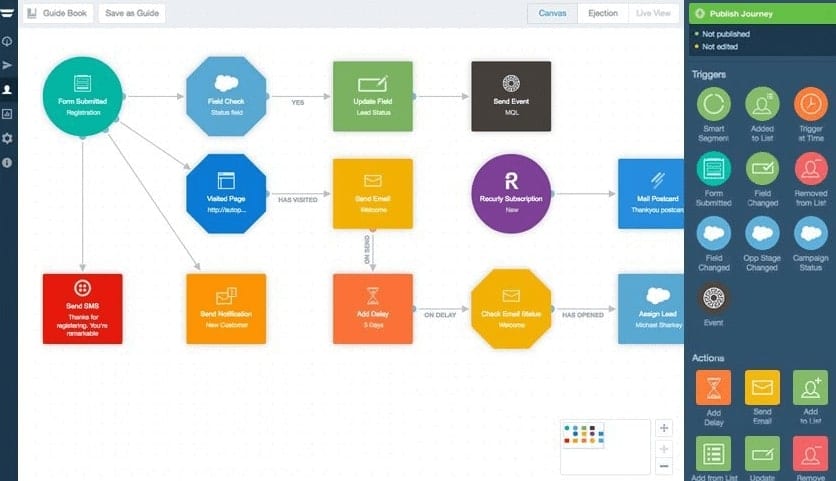 Marketing automation can feel very overwhelming, but Autopilot's service makes it easy by turning it into a visual activity.
Marketing teams can streamline their processes from start to finish with a range of intuitive features. Generate leads with signup forms, nurture them with automated workflows, and create personalized experiences with segmentation and trigger-based sequences.
On top of this, there are tools to automate repetitive tasks like lead assignment, appointment scheduling, and follow-ups.
The platform offers a multichannel solution with email and SMS marketing, in-app messages, and direct mail postcards.
Price: prices start at $49 per month for up to 2,000 contacts.
8. Pardot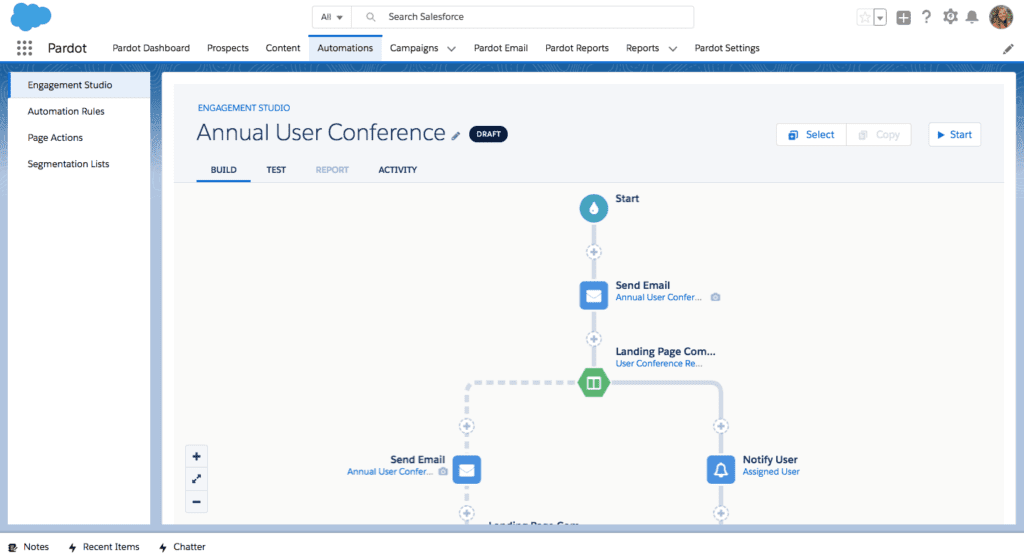 Pardot is Salesforce's marketing automation service. Primarily aimed at B2B marketers, it streamlines the sales process from start to finish.
Features include a landing page builder and smart forms for high-quality lead generation, as well as email marketing capabilities that let you segment subscribers and create automated, trigger-based campaigns.
The analytics track every activity, providing you with real-time metrics on what is and isn't performing. This helps you keep your marketing automation strategy fluid by continuously tweaking it to improve results.
Price: Pardot is predominantly for enterprise-level businesses and the pricing packages reflect this. The cheapest plan starts at $1,250 per month for up to 10,000 contacts.
9. Act-On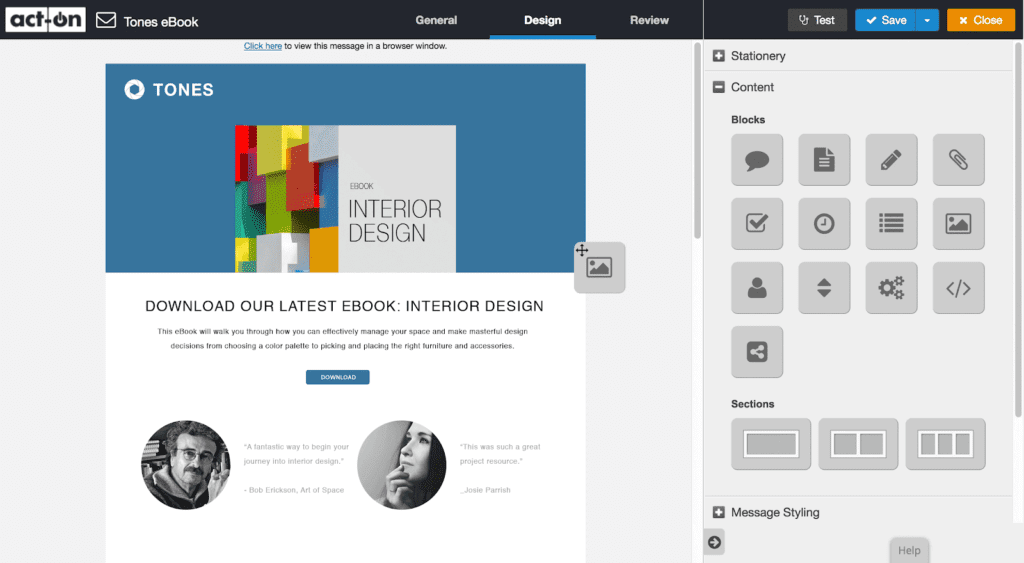 Act-On is an automated growth platform that helps businesses attract new leads and turn them into customers. The service offers a range of features for automating each step of the marketing process and provides detailed analytics.
Key features include premade web and landing pages set up for conversions and smart forms for organizing and tracking leads, while automated lead scoring helps you identify the most qualified leads and tailor your messaging.
There are also a number of powerful email marketing capabilities like segmentation, automated sequences, and a visual editor to help you keep messaging and information on brand while building connections with your customers.
Price: like Pardot, Act-On is predominantly geared towards enterprise-level, with the cheapest package starting at $900 per month for up to 5,000 contacts.
10. Keap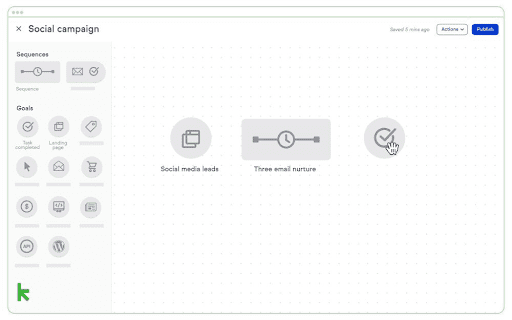 Keap is a combined CRM, sales, and marketing platform with powerful automation tools to streamline your marketing efforts. The emphasis is on creating an enjoyable customer experience and building a solid relationship with your buyers.
The features reflect this, with personalized messages that are automatically sent to each new lead and automated reminders, emails, and text messages. An activity stream keeps you updated on where each lead is in the sales cycle and a central dashboard stores all customer interactions.
There is a drag and drop marketing strategy editor to visualize the customer journey, and you can pull in different activities like social media campaigns, email nurture sequences, and landing pages.
Price: there is a basic plan starting at $79 per month, but for the platform's marketing automation features you'll need the Pro plan starting at $149 per month. Both include 500 contacts.
11. Eloqua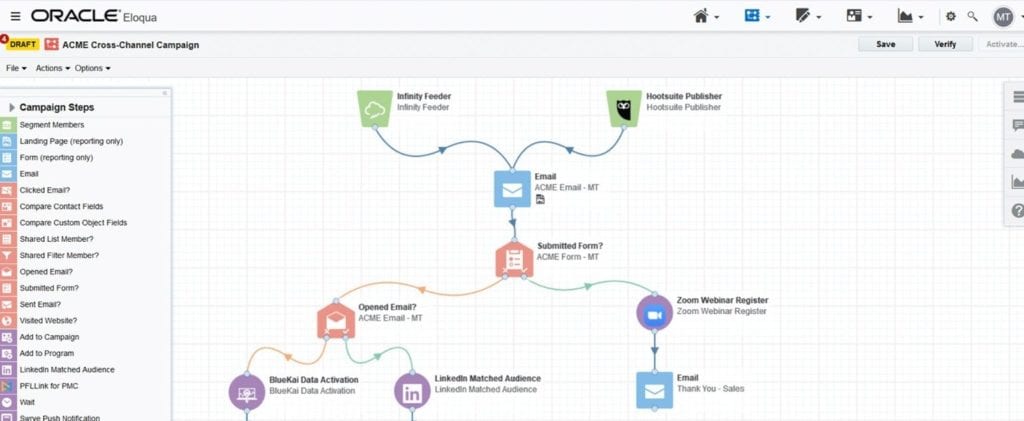 Eloqua is a marketing automation service from Oracle that allows you to create engaging campaigns for every step of the customer journey.
The platform combines tools for creating both online and offline materials, bringing them together to build personalized and optimized multichannel marketing campaigns.
It offers an intuitive way to qualify and manage leads and powerful targeting and segmentation features. You can also create dynamic campaigns that adapt the customer experience based on their activity in real time.
Price: Eloqua is geared towards enterprise-level companies and the prices reflect that. The cheapest package starts at $2,000 per month.
Discover the Power of Marketing Automation Services
Marketing is a key part of building and growing your business. It helps you reach new audiences, while increasing brand visibility and trust.
Using marketing automation services to create multichannel campaigns is a seamless way to bring together all the moving parts. The tools in this list all have powerful capabilities to help you build out customer journeys from start to finish, from reaching qualified leads to nurturing them through to the sale.
All of this is done on autopilot, giving you the space and time you need to focus on other parts of your business.
Start using Marketing Automation with Brevo
Visual workflow builder, if/then logic, multichannel steps, performance tracking and ready templates to use. Free for 2,000 contacts.