Reading time about 31 min

Sure, it might be the best known email marketing software, but what if we told you that switching to a Mailchimp alternative could save you hundreds (even thousands) of dollars per year?
And with Mailchimp's 16% price increase in December 2022 and a heavy reduction of its free plan in August 2022, things have only gotten more expensive. Last month, it communicated to free users that even stricter limits were imposed since March 10.
That's why we've put together this post: to help you pay less for email.
And spoiler alert, it's totally possible to find a cheaper alternative to Mailchimp with all the same functionality.
Taking the cheapest monthly plan available, we've compared 11 Mailchimp competitors on how much it costs to send email newsletters to a given number of contacts.
We'll look at features in the second half of the post but this comparison is mainly focused on monthly email sending costs.
So, want to know which Mailchimp alternatives will generate the most savings on email? Read on to find out!
Prices listed are for monthly plans only
What are the best Mailchimp alternatives?
At a glance, the best Mailchimp alternatives are:
Why it's worth considering Mailchimp alternatives
Mailchimp is known for free and entry-level plans. However, that's no longer the case. Their free plan now covers only 500 contacts and 1,000 emails starting March 10, 2023! And once your email list starts to grow, Mailchimp's cost goes up way too fast.
On Mailchimp, every single contact counts as a billable contact, even those who unsubscribe. This means that to keep Mailchimp costs low, you need to stay on top of your email list cleaning all the time. Plus, if a contact appears on two lists, it's billed twice!
Also, as a Mailchimp user, you may have noticed that list segmentation can be tricky. Instead of separating contacts into distinct lists, Mailchimp encourages you to have one single list (known as an 'audience') and to segment using tags. Tags can quickly become messy and confusing.
Another thing to keep in mind about Mailchimp is that while it has some great advanced features, these are mainly reserved for the higher pricing tiers.
You've probably hit a wall with some of Malchimp's biggest CONS already and that's why you're looking at Mailchimp competitors:
Paying for contacts, even unsubscribed ones
No integration with Shopify
No integrated SMS, live chat, or push notifications
All features billed by contacts, exponentially increasing the price
Very limited free plan: 500 contacts, 500 emails a day but only 1,000 emails a month!
Try the best Mailchimp alternative
Free plan includes 300 emails/day, 40+ email templates, signup forms and unlimited contact storage. Ecommerce integrations, SMS, chat, push notifications available.
An Overview of the Best Mailchimp Alternatives
If you're looking to move away from Mailchimp, surely your first concern is the features you'll get elsewhere and the cost. Luckily, there are quite a few Mailchimp competitors with comparable features and often better prices.
Price Comparison to Find Cheaper Alternatives to Mailchimp
Here's a price comparison of the top Mailchimp alternatives by contact list size. Note that Brevo (formerly Sendinblue) is the only one to not charge per content but by number of emails sent. Everyone else, Mailchimp and competitors, charge for subscriber storage, which inflates the price as your list grows.
Here's how pricing compares when sending one email per month to specific numbers of contacts.
Prices based on monthly plans (cheapest plan available)
Comparing 'free forever' plans: The best free alternatives to Mailchimp
Is Mailchimp free? It offers a free plan, true, but it's very limited (was reduced recently) and the price goes up steeply from there.
Naturally, if you're an email marketing beginner, a small business owner, or just starting out in ecommerce, you might find that too expensive. Or maybe you're looking for cheaper Mailchimp alternatives for nonprofits (check out our guide to email marketing for NGOs)?
Free plans are an ideal opportunity to test-drive an email marketing platform before committing to a paid plan. Free plans are essentially Mailchimp free alternatives. The best paid email services usually offer them to get you started.
Email marketing services that don't have a free plan
ActiveCampaign: 14-day free trial. Starting price of $15/month for 500 contacts.
Constant Contact: 30-day free trial. Starting price of $9.99/month for 500 contacts.
Moosend: 30-day free trial. Starting price of $9/month for 500 contacts.
Find more resources.
To learn more about email marketing alternatives, check out these resources:
The 11 Best Mailchimp Alternatives in 2023
This goal here is to give you an idea of the key features offered by different email providers.
Some features are available on base plans, others are reserved for upper tier/premium plans. For exact pricing information per feature, you'll need to visit each provider individually.
Top of the list of Mailchimp alternatives is Brevo (formerly Sendinblue). You've seen how Brevo offers great value for money when it comes to sending emails. Now let's see what else you can do with the platform.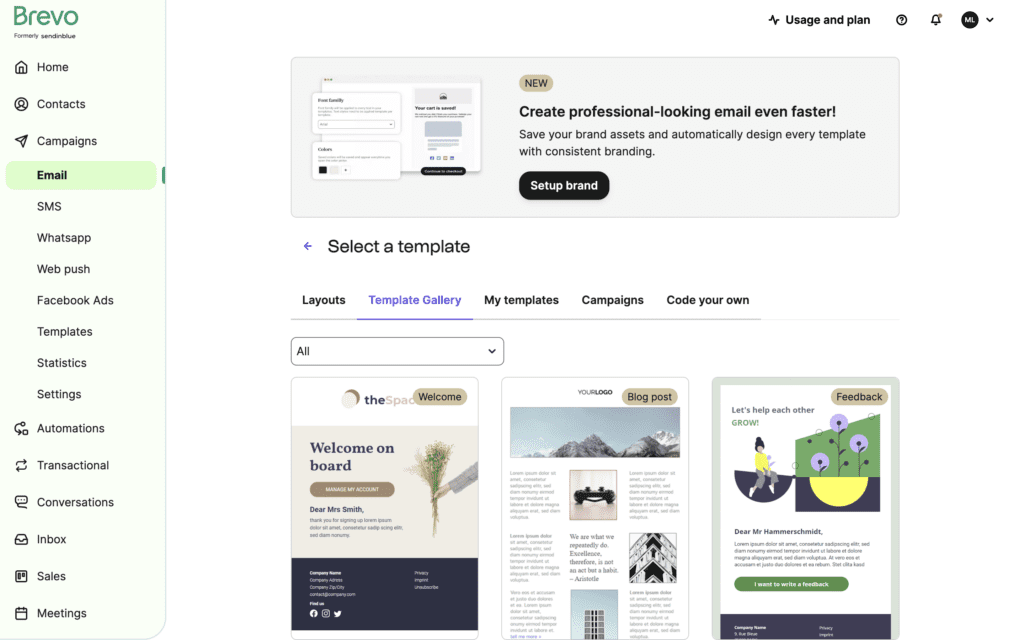 Brevo (formerly Sendinblue) is an affordable, user-friendly email marketing software. But that's not all. It's also an all-in-one CRM suite. Alongside all the necessary email marketing tools, you'll get other Marketing Platform features including automation, SMS, WhatsApp, and Facebook ad capabilities. Sign up for Sales Platform for meetings and deal pipelines, Conversations for personalized chat tools, and so much more.
What makes Brevo the best Mailchimp alternative?
Main advantages over Mailchimp:
A robust email deliverability infrastructure to help land your emails in the inbox
Pricing based on the number of emails, not the number of contacts: Brevo lets you store unlimited contacts across all its plans. No matter how big your email list grows, its size won't impact the pricing. Mailchimp, on the other hand, charges per contact stored. As one user describes Brevo: "No need to worry about growing your database and seeing your costs explode."
Transactional emails included in each plan: You can send transactional emails (like order confirmations, shipping notifications, password resets, etc.) over Brevo's SMTP server as part of your monthly plan. With Mailchimp, transactional emails are a paid add-on to your monthly plan and incur pretty hefty transactional fees.
Brevo's free plan is very generous compared to that of Mailchimp, letting you build your email strategy and grow your list without overpaying.
Check out our Brevo (formerly Sendinblue) vs Mailchimp guide for a detailed comparison of pricing and features.
Or you can just try it out for yourself by signing up for a free plan. You'll get 300 emails a day and unlimited subscribers.
Brevo's email marketing features:
Unlimited subscribers
Drag-and-drop email builder & HTML email editor
Customizable email templates
Advanced list segmentation
Dynamic personalization
A/B testing (email content and subject lines)
Advanced analytics
Email subscription forms
Easy to set up double opt-in
Native integrations with WordPress and other CMS
GDPR compliant
Automation tools:
Autoresponders
Email marketing automation
Visual workflow builder
If/then/else workflows
On-page activity triggers
Ecommerce:
Multichannel:
Email
SMS marketing
WhatsApp marketing
Push notifications
Shared Inbox
Landing page builder
Live chat
Chatbot
Also includes a built-in CRM for managing contacts and deals.
Brevo Pricing
Brevo offers a forever-free plan with 300 emails a day (that's 9,000 emails a month!). Unlimited contacts, signup forms and email templates included!
Plans start at $25/month for 20,000 emails and grow with your business needs, not with your contact list.
Languages available:
The platform is available in 6 languages: English, French, German, Spanish, Italian, and Portuguese (Mailchimp only supports English)
Best for:
Both small and large businesses, ecommerce stores, publishers, startups.
2. Moosend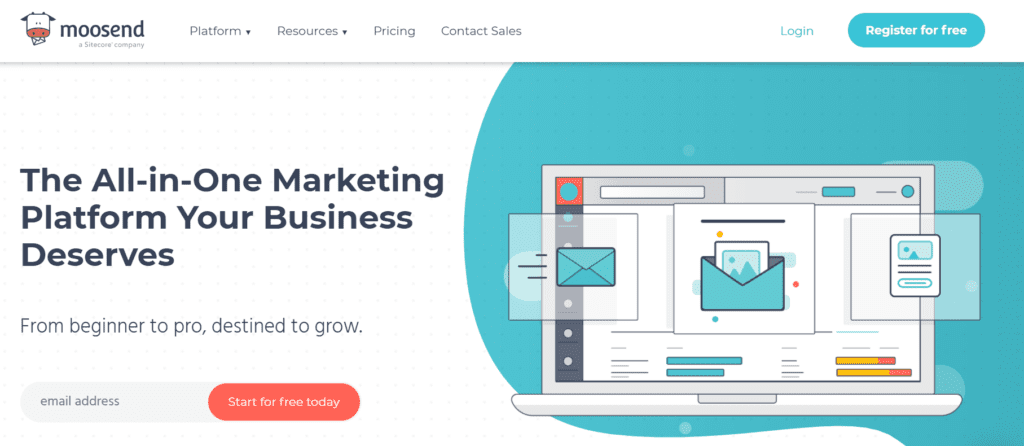 Moosend is another affordable email marketing solution and marketing automation platform.
Compared to some other Mailchimp alternatives, it lacks certain native integrations and multichannel marketing features. That said, it has everything you need to create and send successful email campaigns.
Why choose as Moosend as a Mailchimp alternative
Moosend's main advantage over Mailchimp is that it's a lot cheaper and offers a generous free plan. Overall it's a good choice for small businesses and infrequent senders.
Moosend email marketing features:
Unlimited emails
List segmentation
Newsletter templates
Drag-and-drop editor
Email subscription forms
Real-time analytics
Automation possibilities:
Automation workflow editor
Automation templates
Lead scoring
Conditional triggers
Ecommerce:
Abandoned cart emails
Transactional emails
SMTP server
Integrations via Zapier and Piesync
Multichannel:
Unfortunately not as many multichannel features as Mailchimp and other providers.
Best for:
Publishers, agencies, small businesses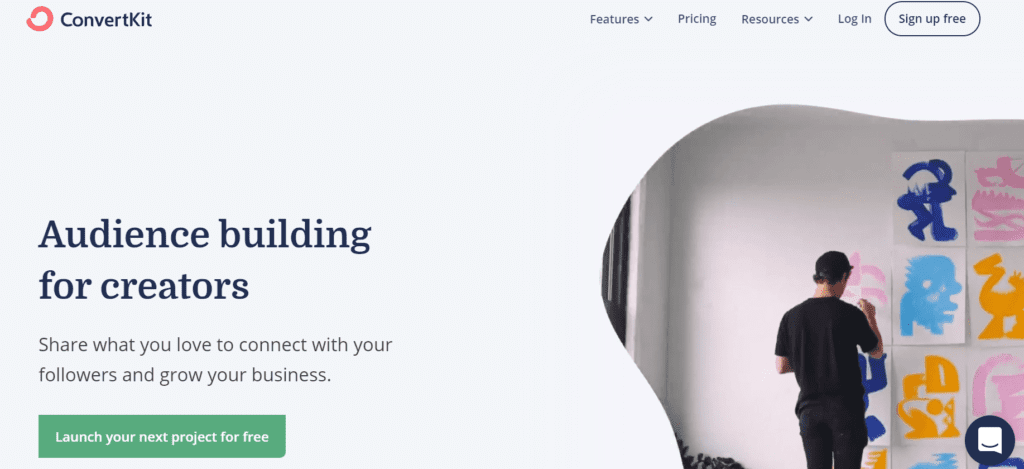 ConvertKit promotes itself as the email marketing platform for creators. This includes bloggers, artists, musicians, Youtubers—basically anyone running a creative business.
ConvertKit's email marketing tool is optimized with this audience in mind.
Advantages of ConvertKit vs Mailchimp
ConvertKit doesn't charge twice for same subscriber in different lists
You can create multiple signup forms for different opt-in incentives and content assets. This makes it easy to grow a subscriber list with content upgrades.
There's a free concierge migration service if you have over 5000 subscribers
ConvertKit email marketing features:
Email campaigns
RSS to email
Mobile responsive
Form builder
Analytics & engagement scoring
A/B tests
Option to run a paid newsletter (transaction fee applies)
Automation possibilities:
Visual automation builder
Autoresponders
Email marketing automation
Link triggers
Ecommerce:
Ecommerce integrations
API
Multichannel:
Landing pages (+ templates)
Possibility to sell digital products
Newsletter referral system
Facebook custom audiences
Best for:
Creators, artists, writers, musicians, bloggers.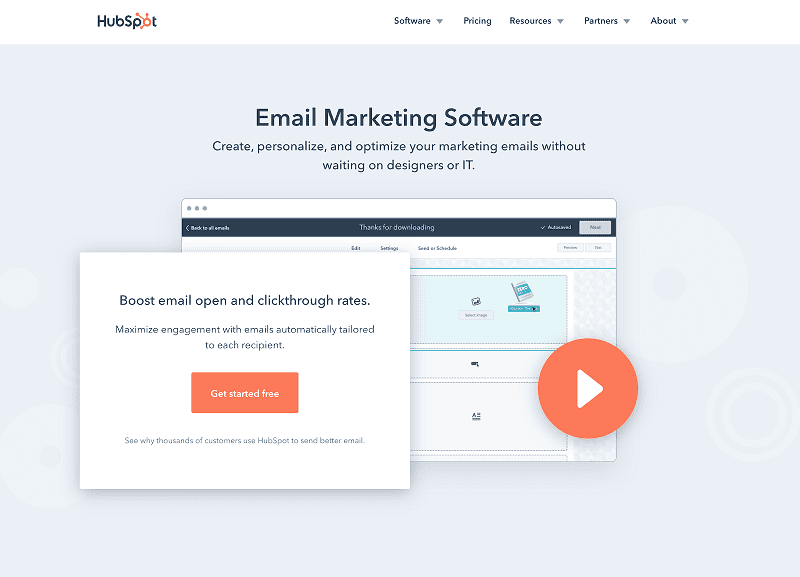 If you're looking for more than just an email marketing tool, HubSpot is a great Mailchimp alternative to consider. HubSpot's email marketing service is backed with a full suite of marketing and automation tools, to help you create unique, personalized experiences for your audience.
Main advantages of HubSpot vs. Mailchimp
Here's why HubSpot is one of the best alternatives to Mailchimp:
Marketing automation: HubSpot's automation features go well beyond simple autoresponders. While Mailchimp offers automated kickback emails and drip campaigns, HubSpot lets you create automation workflows to manage your contact database, pass off leads to other teams, and even automatically create support tickets. You can also add delays and conditional logic.
Growth platform: With forms and popups, live chat and bots, ad management, landing pages, and more, HubSpot has everything you need to kick off your marketing strategy, as well as more advanced features that you can grow into. The HubSpot CRM also supports your sales and customer service teams for a seamless cross-functional customer experience.
HubSpot email marketing features:
Forms
Popups
Segmentation
Email analytics and health insights
Mobile optimization
Automation possibilities:
Autoresponders
Automate drip campaigns
Advanced sequences (conditional logic)
Lead scoring
Multichannel:
CRM
Live chat and conversational bots
Plans to support sales and customer support teams
Landing pages
Ad retargeting & management
Best for:
The free plan has a generous feature set but HubSpot becomes expensive if you have more than 1000 subscribers. For this reason it's probably best suited to mid/large enterprises rather than small businesses on a budget. As well, the wealth of advanced functionalities makes Hubspot a better option for experienced pro marketers.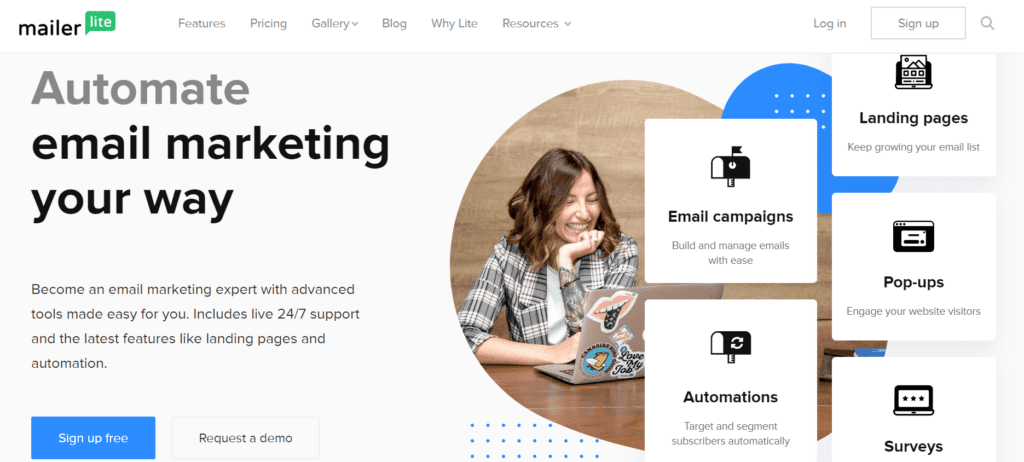 Mailerlite is another cheaper alternative to Mailchimp and a solid choice if you're just looking for a simple, intuitive email tool.
What makes Mailerlite better than Mailchimp:
There are only two pricing plans, free and paid. This means you can access all features on the paid plan (unlike Mailchimp which has different pricing tiers).
Mailerlite email marketing features:
Drag-and-drop editor
Popup signup forms
Simple reporting dashboard
Segmentation
Email templates
Time zone scheduling
Auto resend
A/B testing
Rich text & HTML editor
Automation possibilities:
Autoresponder
Simple automation sequences
Multichannel:
Landing pages (+ custom domains for landing pages)
Free website with up to 5 landing pages
Best for:
Perfect for small businesses. Mailerlite is a lightweight solution that offers great value for money given its ease of use.
However, it's probably not the tool for you if you're looking for more advanced features (automation, etc.)
Another point to note is that Mailerlite doesn't offer any phone support, even on their paid plan.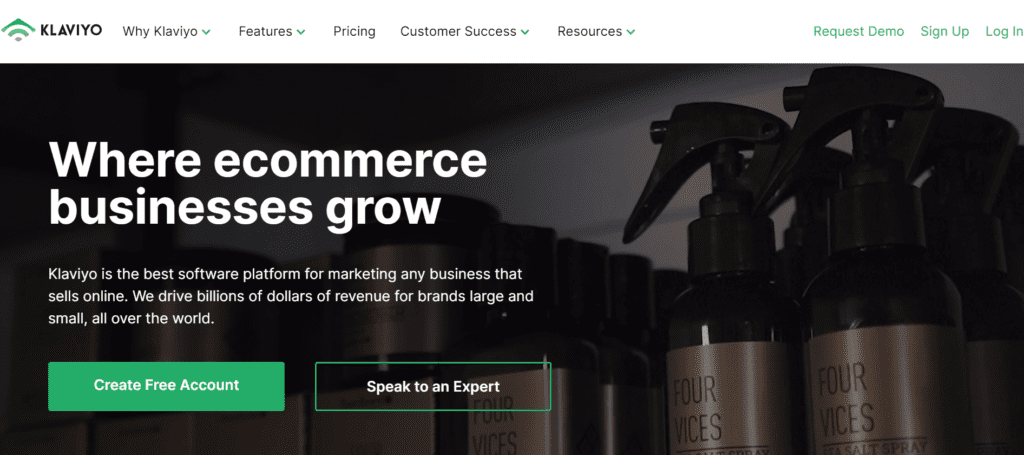 Klaviyo's email marketing service is built for ecommerce and integrates easily with Shopify.
Klaviyo particularly excels when it comes to advanced analytics and insights. If you want to dig deep into customer data, Klaviyo is one of the best Mailchimp alternatives for this.
Find other Klaviyo alternatives here
What makes Klaviyo better than Mailchimp
Main advantages over Mailchimp:
Granular segmentation: Klaviyo provides a ton of behavioral and transactional data with which you can segment contacts. It also has predictive analytics to determine Customer Lifetime Value (CLV) and the risk of churn.
Pre-built templates for automation workflows: Save time setting up automated workflows thanks to Klaviyo's library of ready-made templates for your abandoned cart, welcome, and win-back flows.
Measure email marketing ROI: Easily track all the sales coming directly from your email marketing efforts.
Klaviyo email marketing features:
Segmentation and personalization
A/B testing
1-click integrations with many apps and services
ROI-based reporting
Signup forms and popups
Automation possibilities:
Workflow builder
Automated workflow templates
Pre-built autoresponders
Ecommerce:
Abandoned cart reminders
Native integrations for Shopify, Magento, WooCommerce and more
API
Product recommendations
Dynamic data block
Multichannel:
SMS
Facebook & Instagram advertising
Best for:
Ecommerce businesses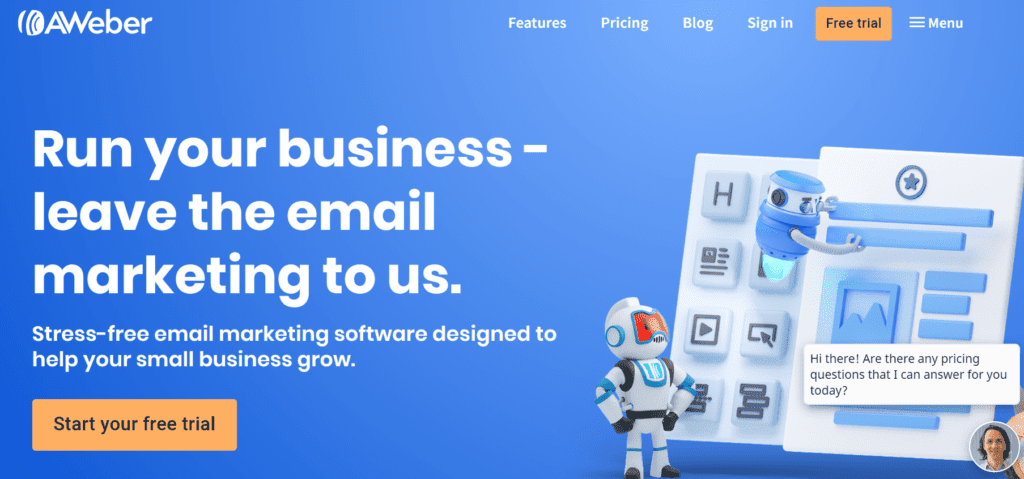 AWeber has been around since 1998 and is still a popular email marketing tool for small businesses, bloggers, and entrepreneurs. It offers a huge gallery of ready-made email templates and gives lots of options for email automation and personalization.
Here's why AWeber is one of the best Mailchimp alternatives:
An all-inclusive pricing model: With AWeber you get access to all features, no matter what plan you're on. With Mailchimp, a limited number of features are available on the cheaper plans. For example, A/B testing and advanced segmentation are only available as you move up the different pricing tiers.
Customer support via phone, chat and email: AWeber customers have a number of options to contact its award-winning customer support 24/7. Mailchimp, on the other hand, has no direct contact support options for its free users, and phone support is a luxury that's only available on the premium plan (starting at $299).
AWeber email marketing features:
Newsletters
RSS to email
Email templates
Drag and drop email editor
Signup forms
WordPress plugin
Basic segmentation
Analytics
Automation possibilities:
Autoresponder
Behavioral automation
Ecommerce:
No transactional emails
Sales tracking
Purchase tagging
Multichannel:
Web push notifications
Stock photos
Landing pages
Best for:
Email marketing beginners who want a user-friendly newsletter and list management tool without all the bells and whistles.
Advanced segmentation and A/B split testing will be missed but you do get 24/7 support (phone/email/chat) on all plans.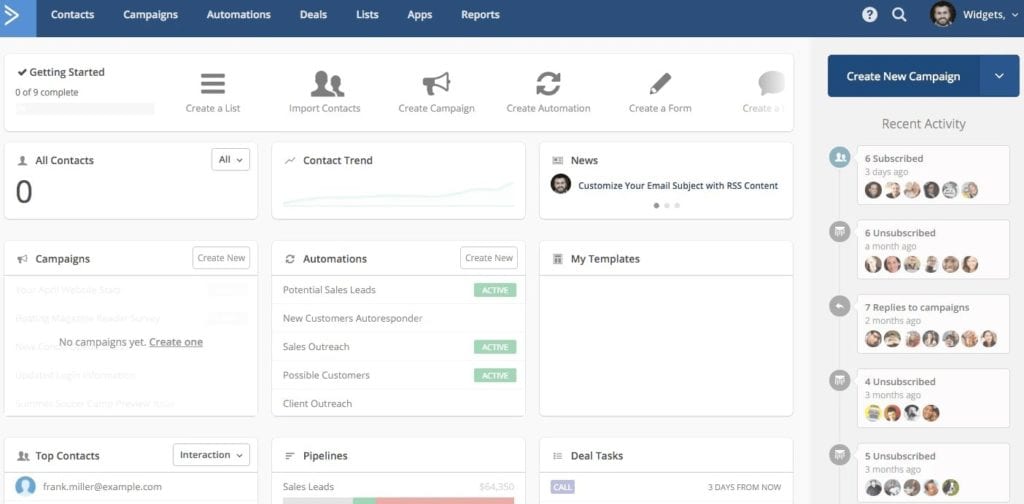 ActiveCampaign's email marketing tool is just one feature of its many marketing software capabilities.
ActiveCampaign makes it easy to personalize your emails using contact data. You can also split test up to five different email versions to work out which content performs best.
Plus, there's also a built-in spam tester to check if emails are likely to go to junk.
Why choose ActiveCampaign as a Mailchimp alternative
Main advantages vs Mailchimp:
Automation and workflow recipes to get you started
Suits the more advanced marketer
Unfortunately doesn't offer a free plan but you can do a 14-day free trial
ActiveCampaign email marketing features:
Newsletter
Drag-and-drop editor
Email templates
Analytics
Automation possibilities:
Autoresponders
Marketing automation
Automation map
Contact & lead scoring
Ecommerce:
Product blocks for email
Ecommerce integrations
Conversion tracking
Multichannel:
CRM
Landing pages
Site messages
SMS marketing
Social media tool integrations
Best for:
Pro marketers who are already familiar with advanced automation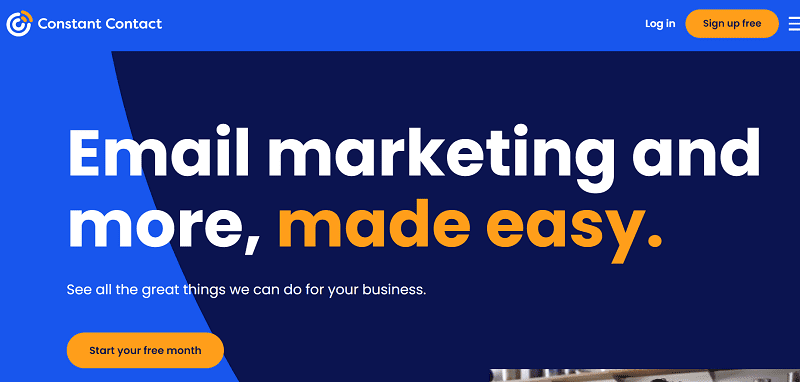 Constant Contact helps small businesses create websites, online stores, branded email marketing campaigns, and more.
Why choose Constant Contact as a Mailchimp alternative
Main advantages vs Mailchimp:
Ease of use and intuitiveness, especially for organizing lists
Accessible customer support on low priced plans
Donations tool to support email marketing for nonprofits
No free plan but paid plans come with unlimited emails.
Constant Contact email marketing tools:
Email campaigns
Email templates
Resends to non-openers
A/B split testing for subject lines
Automation possibilities:
Automated email series/nurturing workflows
Ecommerce:
Abandoned cart email reminds for Shopify
Integrations with Shopify, Eventbrite and Mindbody
Multichannel:
Survey tool
Donation collection
Social media scheduling and ads
Landing page builder
Best for:
Small businesses and nonprofits looking for a simple multichannel solution
Campaign monitor is another cost-effective Mailchimp alternative to consider, particularly for lower volume senders. Their platform offers countless beautiful email newsletter templates for everything from announcements to holiday campaigns to reengagement messages.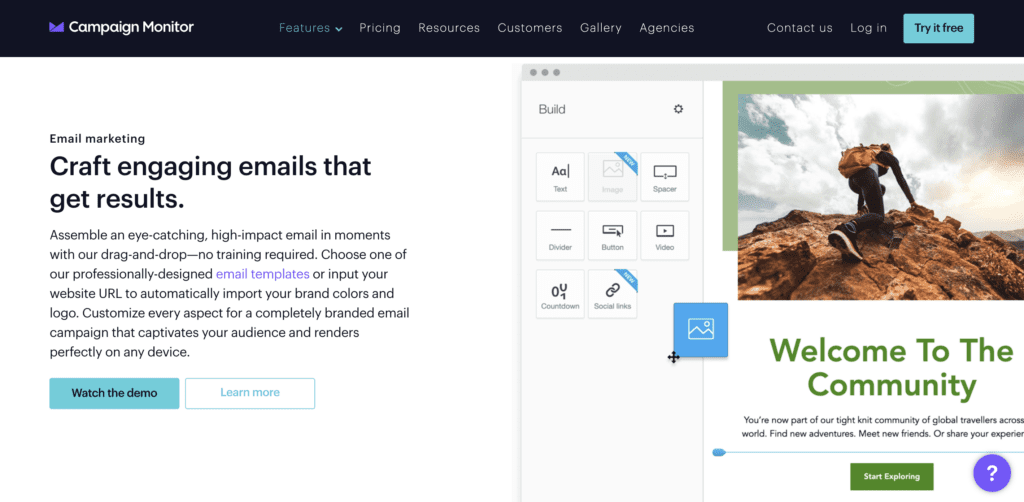 What makes Campaign Monitor better than Mailchimp
Campaign Monitor is a good Mailchimp alternative for a few reasons. First off, for most email sending volumes, they're less expensive than the industry leader. Second, they're visual journey builder is great for beginners looking to get started with more advanced automations.
Overall, Campaign Monitor users find that their platform is far easier to use than Mailchimp's. If you're looking for an intuitive email marketing tool, this is one to consider.
Campaign Monitor email marketing features:
Email campaigns
Drag and drop email builder
Over 100 customizable templates
Free image gallery
A/B testing
Popups and forms
Real time reporting analytics
RSS-to-email
Automation possibilities:
Automation visualization
Advanced link tracking
Ecommerce:
Transactional emails
Various plug-ins / integrations
Multichannel:
CRM plug-in
CMS plug-in
Landing pages
Social media marketing alignment
Best for:
Small businesses looking for an email marketing tool. (While Campaign Monitor supports other channels, you'll have to go through integrations to use them).
Read more: 7 Best Campaign Monitor Alternatives
11. Omnisend
Lastly, there's Omnisend. It offers an easy-to-use platform for ecommerce email marketing, SMS, and automation. If you're looking for an exhaustive ecommerce option, Omnisend is a decent pick.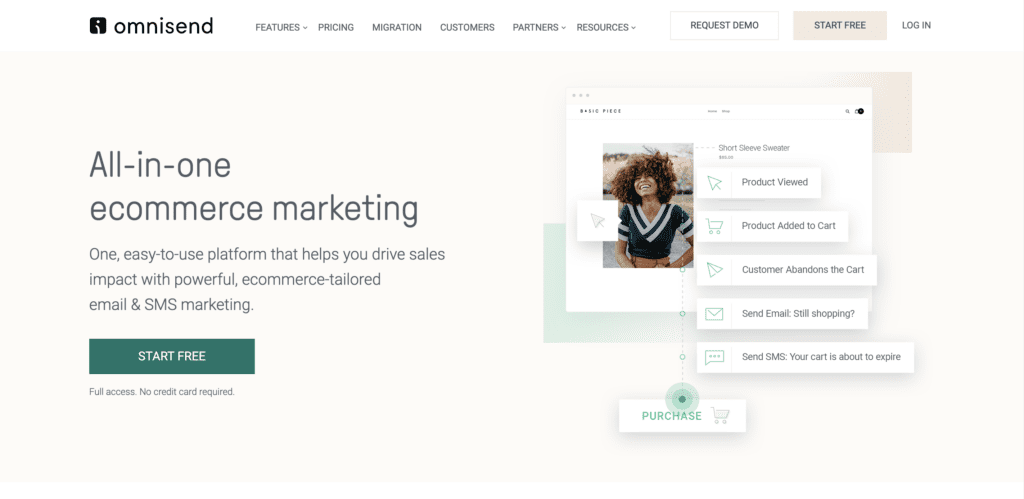 Omnisend positions itself for ecommerce businesses and boasts a variety of helpful tools for running an online shop. In addition to email marketing, they support SMS marketing, another perk for ecommerce retailers. While Omnisend's functionality is top-notch, the pricing is steep, even more than Mailchimp for certain volumes.
Omnisend email marketing features:
Email campaigns
Drag-and-drop editor
List segmentation
Sign-up forms
A/B testing
Campaign reports and click maps
Email templates
Analytics
Automation possibilities:
Pre-built workflows
Ecommerce-focused personalization
Ecommerce:
Ecommerce integrations
Cart abandonment
Order/shipping confirmation
Product recommendations
Multichannel:
Landing pages
Web-push notifications
SMS
Social media integrations
Best for:
Established ecommerce businesses looking to make use of a variety of features.
The Must-ask Questions when Choosing an Alternative to Mailchimp
When comparing email marketing services, it's easy to get overwhelmed by all the different tools, especially if you're an email marketing beginner. But here are some questions you can ask yourself to narrow down the selection:
1. What key features does my business need?
Do I need a simple email tool or could I also benefit from an 'all-in-one' pro tool with other marketing capabilities?
All-in-one platforms are a great way to centralize your marketing operations, reduce the size of your martech stack, and cut down on your marketing expenses. You're also set to save a lot of time switching between tools.
As lots of email providers branch into multichannel offerings, it's definitely worth taking a look at what you can do beyond email.
2. What kind of emails will I send and how often?
Will I be sending promotional email campaigns, transactional emails, or both?
As we've seen, Mailchimp competitors differ in how they cater to (and charge for) transactional emails.
Brevo (formerly Sendinblue), for example, lets you manage promotional and transactional emails on the same plan. Others bill transactional emails as an add-on while some (like Constant Contact) don't offer any transactional email service.
Are transactional emails vital to the success of your business? If so, you need to check how a potential email provider manages such emails and figure out how much it'll cost you.
3. How many email subscribers do I have?
And how fast do I predict my email list to grow?
As we've seen, most email services base their pricing on the number of subscribers stored. It's easy to get lured in by super cheap base plans and then see a considerable hike in prices once you hit the 1000 subscriber mark.
This is where you need to look ahead. Don't just ignore the higher pricing tiers. Will the shift in prices still suit your budget as your list grows? Or would you prefer a more flexible, scalable option that isn't based on the number of contacts but on the volume of emails?
If it's a case of the latter, Brevo (formerly Sendinblue) offers unlimited contacts on all plans. This way you don't have to worry about increasing prices as your list grows.
4. What's my skill level as an email marketer?
Do I need a basic 'get the job done' tool or something more sophisticated?
This is where you should assess your email marketing goals and skills as a marketer. A lot of small businesses are just looking for simplicity, efficiency, and affordability. If you fall into this category, it's likely the most basic email package will suit.
But if you're a seasoned marketer or perhaps more into the tech/dev side, you'll probably want a sophisticated pro tool. Services with advanced automation, segmentation, and analytics possibilities will speak to you more.
Frequently Asked Questions (FAQs)
Here are some of the most common questions people ask about Mailchimp alternatives.
What is Mailchimp?
Mailchimp is an email marketing service that lets you create and run email campaigns. They offer email templates, signup forms, A/B testing, CRM, and other features to grow your audience.
Does Mailchimp offer a free plan?
Yes, Mailchimp's free plan includes 500 contacts and 1,000 emails. You'll need to upgrade to a paid plan for more contacts, higher sending limits, and advanced features.
Is Mailchimp HIPAA and GDPR compliant?
Mailchimp is not HIPAA compliant. They don't have a Business Associate Agreement (BAA), which is needed for HIPAA compliance. Their terms state that Mailchimp users are responsible for making sure their email marketing complies with regulations like HIPAA.
Mailchimp offers tools that help you stay GDPR compliant when asking for customer data. For example, they have GDPR compliant signup forms and double opt-in that you can use to build your email list.
Although Mailchimp's servers are located in the U.S, they can still lawfully process personal data on behalf of users based in the European Economic Area (EEA). 
There are other GDPR compliant email marketing services. For example, Brevo (formerly Sendinblue) makes it easy to stay GDPR compliant with double opt-in forms and servers in the European Union.
Is there something similar to Mailchimp?
There are many tools that offer similar email marketing features. Each software comes with advantages and disadvantages, depending on your budget and how you plan to use it.
For example, Brevo is a good Mailchimp alternative if you're looking for an affordable email marketing service that's part of an all-in-one CRM suite. SMS and WhatsApp campaigns, live chat, and marketing automation are just a few of Brevo's other features.
Is there a cheaper option than Mailchimp?
There are several Mailchimp alternatives with cheaper pricing plans. Many also offer free plans that include higher email and contact limits than Mailchimp.
Brevo stands out due to their pricing structure, which is based on the emails you send — not your number of subscribers. Brevo's free plan even comes with unlimited contacts. Mailchimp, on the other hand, can get pricey as your email list grows.
What is the best Mailchimp alternative?
There are many Mailchimp alternatives you can consider depending on your budget, needs, and skills. 

Brevo can be a great choice for both small and large businesses given their easy-to-use interface, wide range of features, and cheaper pricing.
Time to Try Out Some Mailchimp Alternatives
Test, test, test. It's the best way to find the ideal email service provider for your business.
Take advantage of free plans and free trials to get a feel for the software. You'll quickly start to notice the differences and learn your own preferences.
We hope this guide has helped you see where you can save the most money with Mailchimp alternatives.
Try Brevo and do more for less
All-in-one CRM suite with vital email features integrated with automation, live chat, push notifications, signup forms and more. And always unlimited contacts.